What to Watch For: Can Davis Recreate Previous New Jersey Magic?
By: Justin Felisko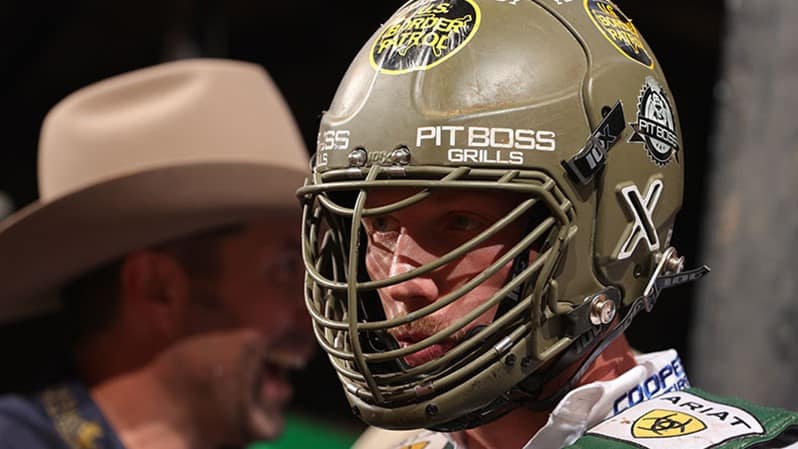 PUEBLO, Colo. – About 120 miles south of the Prudential Center, the site of this weekend's PBR ZipRecruiter Invitational, 2016 World Champion Cooper Davis made arguably one of the best rides in PBR history.
Many have placed Davis's 93.75-point ride aboard two-time World Champion Smooth Operator from the 2018 Atlantic City Invitational among the rides that deserve to be discussed as the greatest of all time.
Reigning World Champion Jose Vitor Leme may own the PBR record with his 97.75-point ride on current world No. 1 bull Woopaa from this past August, and Davis even set a new career-high with his own 94-point ride on Chiseled in March, but Davis's ride on Smooth Operator three years ago should never be forgotten about when discussing his ability.

Davis's ride came with six events remaining in the 2018 season, and his heroic effort aboard the rank eliminator pushed him to No. 7 in the world standings. Still, the second-place finish was not enough to spearhead a push for a second world title. The Jasper, Texas, native would finish no better than sixth in the final month and a half of the 2018 season, and he missed two of the last five events.
If Davis wants to win a second gold buckle in 2021, he will need the effort he displayed aboard Smooth Operator in Atlantic City and much more if he looks to supplant Leme in the 2021 world title race.
The No. 3-ranked bull rider in the world trails Leme by 828 points in the world standings heading into Newark on Saturday night (8 p.m. ET on RidePass on Pluto TV).
Leme's season of greatness has overshadowed Davis's own career year. Davis (nine 90-point rides) is on pace for his first season with double-digit 90s, and his 32 qualified rides on the Unleash The Beast is 10 away from matching his career-high of 42 that he set during his 2016 championship season.
So, can Davis catch Leme?
Mathematically, there are enough points available for Davis, as well as for No. 2 Kaique Pacheco, to make a run, but each rider needs to rack up some wins and get some serious help from Leme.
One rider can earn a maximum of 1,094 points at the World Finals, and one rider can still earn up to 1,120 points in the final six Unleash The Beast regular-season events and two 15/15 Bucking Battles.
No rider, even Leme, will sweep the rest of the season and be 90 points on every bull. Therefore, the key for any rider attempting to catch Leme is to close the gap between now and the World Finals on Nov. 3.
Getting close to the 650-700-point deficit range is a much more realistic mountain to attempt to climb in Las Vegas.
"It is man vs. the bull, but at some point in time, you have to look up and see what he is doing," Davis admitted in Nashville. "He is one of the toughest guys I have ever seen in this sport. The season he is having is amazing. It is something that has never been done. It is tough to look up to him. You can be 90, and he will be 93. What do you do to beat that guy?"
The answer ultimately is going to be the World Finals.

Davis understands the World Finals will be his best and final chance to somehow catch Leme, and that until that buckle is officially handed over, nothing is over just yet.
In 2016 he overcame a much smaller deficit (875.33 points in the old system) in the final three weeks of the season and defeated Pacheco for the world title on the last day of the Finals.
"When you get to the Finals, you know you have to step up," Davis said. "That has always been one of my favorites about the sport. Knowing if you just get to the Finals, you could have a shot. You just need to have that shot at the World Finals."
That uphill battle to make sure they still have a shot begins for Davis and Pacheco on Saturday night.
Davis has drawn Patillo Ridge (3-2, UTB) for Round 1, and Pacheco takes on Smoke on The Water (1-0, UTB).
TOP 30 RIDERS OUT OF COMPETITION BECAUSE OF INJURY
No. 4 Dener Barbosa (right shoulder)
No. 16 Paulo Lima (right groin)
No. 18 Alex Cerqueira (personal)
No. 19 Colten Fritzlan (left shoulder)
No. 27 Cole Melancon (lower back)
Alternates for this weekend (Need a qualified ride to advance to Round 2)
No. 46 Dakota Louis
No. 48 Leonardo Lima
No. 49 Adriano Salgado
No. 51 Kyle Jones
No. 52 Grayson Cole
No. 55 Matt Triplett
No. 56 Ramon de Lima
No. 61 Hunter Ball
No. 63 Fernando Henrique Novais
Newark will feature 39 contestants on Saturday night. As part of the 2021 UTB event structure, any rider who is not seeded based on Unleash The Beast tour event standards (Top 30 available plus any Pendleton Whisky Velocity Tour invites or injury exempt riders) will need to earn a qualified ride in Round 1 to advance to compete in Round 2.
RED-HOT SALGADO IS VELOCITY TOUR INVITE

Adriano Salgado is set to appear in his second premier series event after winning the Fresno Invitational Pendleton Whisky Velocity Tour event on Aug. 28. Salgado won the event with a 3-for-3 performance, highlighted by his event-winning 89 points on Spirit Guide in the championship round.
Salgado has drawn The Sauce (12-3, UTB) for Round 1.
Salgado was supposed to be in Anaheim last weekend before travel issues prevented him from making it to California.
The 23-year-old is the older brother of world No. 34 Thiago Salgado and has been one of the hottest riders on the VT tour. Before his Fresno win, Adriano finished in second at the Grand Rapids Classic with an 87-point ride on Night Shift.
Adriano is No. 3 in the Velocity Tour standings and trails No. 1 Michael Lane by 33.5 points. Lane is currently out of competition with a groin injury.
LEME CONTINUES TO PURSUE HISTORY AS THE FIELD CHASES HIM
World leader Jose Vitor Leme leads the PBR with 17 round wins, and he is three away from breaking two-time World Champion J.B. Mauney's single-season record (19 in 2013).
Leme's 17 is the second-most in PBR history already. He flirted with Mauney's record in 2019 before ultimately finishing that season with 16.
The 25-year-old will look for his 18th round win Saturday night when he takes on A-Team (2-0, UTB) in Round 1. A-Team is 10-0 at all levels of competition, including a 4.97-second buckoff of Mauricio Moreira at Last Cowboy Standing in Cheyenne, Wyoming.
Leme is also three event wins away from breaking two-time World Champion Justin McBride's single-season record for event wins (8 in 2007).
The reigning World Champion leads No. 2 Kaique Pacheco by 729.50 points in the world standings and is attempting to become the second rider in PBR history to win back-to-back world titles.
MOREIRA HIGHLIGHTS ROUND 1 REMATCHES
There are five rematches in Round 1, with only one having previously gone in favor of a rider.
Mauricio Moreira vs. Freakin Wicked (87.75 points last year in Duluth, Georgia)
Andrew Alvidrez vs. Satan's Seed (1.72 seconds in Oklahoma City)
Chase Dougherty vs. Walks Far (4.76 seconds last year in Sioux Falls, South Dakota)
Derek Kolbaba vs. Godzilla (3.49 seconds last season in Kansas City, Missouri)
Marco Eguchi vs. Home Wrecker (5.14 seconds last year in Oklahoma City)
Follow Justin Felisko on Twitter @jfelisko
Photo courtesy of Andy Watson/Bull Stock Media
© 2021 PBR Inc. All rights reserved.