What to Watch For: Handful of Riders Returning to Competition in Jacksonville
By: Justin Felisko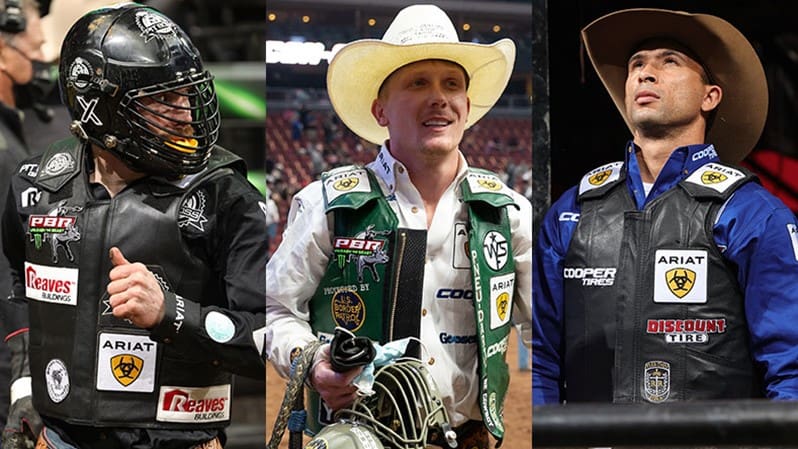 PUEBLO, Colo. – The Unleash The Beast locker room can use some reinforcements after a slew of riders were injured last weekend in Billings, Montana, and seven-time World Finals qualifier Matt Triplett will be one of the fresh bodies rejoining the PBR's top tour.
Triplett will be returning to competition at this weekend's PBR Bad Boy Mowers Invitational, presented by Union Home Mortgage, after missing the last four UTB events because of a right groin strain.
"I am so pumped to be coming back," Triplett told PBR.com Wednesday. "We got everything 100% figured out. My equipment, my mind, and I am just excited to be healthy again. Two of my good buddies, Dalton Kasel and Douglas Duncan, both have had groin issues, and they told me to give it the right time needed. I have always been good about that. I gave it the full time to get it back to 100% so I wouldn't pull it again when I come back."
Triplett has a rematch against Dang It (2-8, UTB) in Round 1 on Saturday night (9 p.m. ET on CBS Sports Network | 7 p.m. ET RidePass). The No. 66-ranked bull rider in the world previously rode Dang It for 86.5 points three years ago in Greensboro, North Carolina.
"It don't get better than that son of a buck," Triplett said. "It was a good bull. I don't really remember that stuff, but I do remember that one because Jerome Davis owns that one. Jerome Davis is a legend, and you can't ever forget when you have one of his bulls."
Triplett went 0-for-1 at the Ridin' With Mason Lowe Annual PBR Touring Pro Division event in Cassville, Missouri, on May 8.

Triplett has not competed on the premier series since he injured his groin on April 9 in Sioux Falls, South Dakota, when The Undertaker bucked him off in 1.7 seconds.
"Man, I felt so good," Triplett said. "I got on a little bull (Yippee High Cowboy) in Cassville that bucked his ass off. I didn't ride him all the way, but I went to spurring, and right as I did, he turned back the other way on a dime and just dropped me. This is as good as I have felt since I left the game in Salt Lake (last season)."
Jacksonville will only be Triplett's fifth premier series event this year.
Triplett, who is 2-for-8 this season, missed the first three months of the year recovering from hip surgery that he underwent last offseason. He shut things down last season on Aug. 21 as hip and groin injuries had him basically unable to walk out of the Days of '47 Arena in Salt Lake City.
The 29-year-old also said it has been a humbling experience taking a day job during the week at home in Sioux Falls. Triplett now works part-time for his sponsor Reaves Buildings in their lumber yard as he looks to provide further income for his growing family (Triplett and his wife, Cierra, are expecting their first child on July 23) and gain experience toward a career after bull riding.
"I kind of took coming back in that first deal for granted," Triplett admitted. "I got myself a day job at Reaves, so it kind of made me appreciate what I do for a living. I may only have four or five years left in me, so I figured I might as well have that backup plan for when I do retire. Maybe I can work my way up and become a salesman and make some money someday."
Triplett is even scheduled to work on Friday for Reaves before packing his bags and flying out in the evening to Jacksonville.
"I dang sure am excited to getting back to doing what I love this weekend," he concluded.
WHO IS IN / OUT FOR JACKSONVILLE
Top 30 Riders Out Because of Injury or Other
No. 4 Joao Ricardo Vieira (abdominal strain)
No. 8 Derek Kolbaba (concussion)
No. 13 Cole Melancon (right elbow surgery)
No. 19 Alex Cerqueira (concussion)
No. 22 Kyler Oliver (left shoulder surgery)
No. 23 Cody Nance (separated ribs)
No. 25 Jess Lockwood (pelvis)
Joao Ricardo Vieira told PBR.com on Wednesday morning he was feeling a little better after being injured at the WCRA Rodeo Corpus Christi, but he still does not feel ready to return to competition just yet.
"I am feeling better, but I still feel a little pain, and I'm not going to the event this week," Vieira said.
Meanwhile, 2016 World Champion Cooper Davis (left thigh strain) and leading Rookie of the Year contender Colten Fritzlan (groins) are returning to competition following a one-week hiatus.

Also back in action are Eduardo Aparecido and Mason Taylor.
Alternates for this weekend (bold riders only guaranteed to compete in Round 1)
No. 33 Jesse Petri
No. 35 Paulo Lima
No. 36 Ezekiel Mitchell
No. 37 Luciano de Castro
No. 39 Michael Lane
No. 43 Kyle Jones
No. 43 Hunter Ball
No. 47 Andrew Alvidrez
No. 48 Dakota Louis
No. 52 Marcus Mast
No. 53 Leonardo Lima
No. 56 Joe Hostetler
No. 57 Logan Biever
No. 65 Wallace de Oliveira
No. 66 Matt Triplett (injury exemption)
No. 67 Cole Skender
No. 68 Wyatt Rogers
Jacksonville will feature 40 contestants on Saturday night. As part of the 2021 UTB event structure, any rider who is not seeded based on Unleash The Beast tour event standards (Top 30 available plus any Pendleton Whisky Velocity Tour invites or injury exempt riders) will need to earn a qualified ride in Round 1 to advance to compete in Round 2.
Joe Hostetler is set to make his premier series debut on Saturday night against Satan's Seed (2-1, UTB). The 23-year-old from Homer City, Pennsylvania, is 7-for-22 in 11 career non-UTB events since 2019.
Hostetler is 3-for-6 in 2021 and heads to Jacksonville coming off back-to-back Top-3 finishes in Grand Forks, North Dakota, and Cassville, Missouri.
Round 1 Rematches
Cody Teel vs. Old Fort Days (0-for-2)
Dener Barbosa vs. Havoc (5.79 seconds in Oklahoma City)
Eli Vastbinder vs. La Grande (3.28 seconds in Greenville, South Carolina)
Ezekiel Mitchell vs. Express Lane (3.23 seconds in Arcadia, Florida)
Marco Eguchi vs. Rebel Call (3.04 seconds at the 2018 Music City Knockout)
Matt Triplett vs. Dang It (86.5 points at the 2018 event in Greensboro, North Carolina)
Follow Justin Felisko on Twitter @jfelisko
Photos courtesy of Andy Watson/Bull Stock Media
© 2021 PBR Inc. All rights reserved.