What to Watch For: Having Tasted UTB Success, Tetz Looks to Make Waves Down South
By: James Youness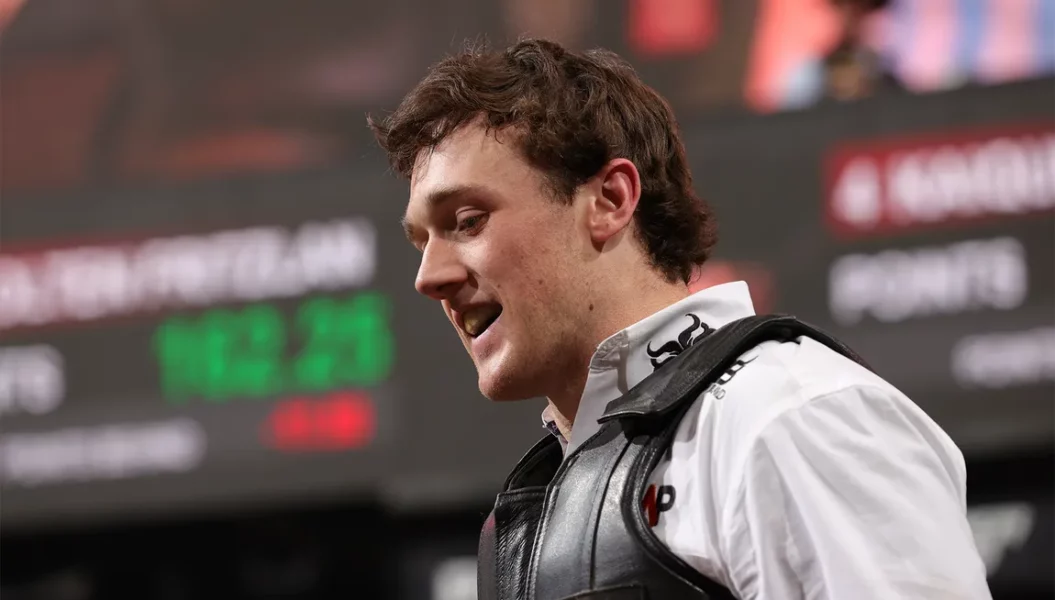 PUEBLO, Colo. – Visiting the studio set of your favorite movie or TV series and taking in all of the behind-the-scenes action can be a lot of fun, especially when travelling to the likes of Hollywood or sunny Florida.
Maybe even meeting a few of the actors, or perhaps, throwing a few lines of script down yourself. After all, you never know when it could be your turn getting the call to the big stage!
Last weekend in snowy Milwaukee, Wisconsin, all but a homecoming for the Alberta, native, 2022 PBR Canada Champion Nick Tetz got a sneak peak at what his future career path could entail.
Except, he wasn't enjoying a tour of the dirt, he was starring on it.
Noting a few of the biggest differences compared to his PBR Canada journeys thus far, he didn't seem shy to the brightest lights in the business by any means.
"Just production-wise, the timing and everything like that," Tetz shared last weekend inside Fiserv Forum.
"How precise everything is, that's the biggest thing. It feels more like a movie set then a bull riding, but we still get that opportunity and support in Canada too, so I feel like I've been well prepared."
Positioned in a corner of one of the rider locker rooms, with 2018 World Champion Kaique Pacheco to his left and current Top 10 riders in No. 4 Andrew Alvidrez and No. 7 Daniel Keeping to his right, he seemed to blend right in.
"Everybody is just as cool in the locker room as back home, everyone is super friendly, but it's just nice to get to put your bag next to World Champions and get to B.S. with them."
Once it came down to punching the clock, it was time for the Canadian sensation to shine.
Grasping the biggest stage in the industry and running with it, Tetz started the slate off in the ride column Saturday night by logging an 87-point ride atop Death Warrant. The conversion, which came early in the contest, represented the 23-year-old's first qualified ride on the UTB.
With emotions flowing, he deservedly celebrated before the crowd as his name was on the leaderboard for the first time in the young rider's premier series career.
After taking advantage of his Round 1 opportunity in what was just his second-ever appearance at an Unleash The Beast event, he entered championship Sunday in good spirits.
Eventually drawing a re-ride during a second-round attempt against Out of Control, he next readied to face Mike's Effect. Able to convert, via an 82-point score, Tetz suddenly found himself with a ticket to his first UTB short round, amidst the talents of Jose Vitor Leme, Pacheco and company.
The stuff that dreams are made of were quickly becoming reality for the young Canadian.
While he wasn't able to get the job done against Mike's Motive in the championship round, dispatched in 2.16 seconds, his 2-for-3 weekend still earned him a sixth-place finish and 38.5 UTB points.
Some would argue the four outs, competing against the best in the world, may have been the true prize.
"It feels good, but at the end of the day it's my job and I didn't do my job on that last one, but it was good experience overall, not a bad debut," Tetz shared.
"That bull (Mike's Motive) was a little tricky, but I feel like if I get a chance another time, I feel like I can get him."
With his sights set on this weekend's action in New Orleans, Louisiana, Tetz will look to produce another quality showing after some quick tune up work back home.
"I'll go home, probably won't get on any practice bulls, but I'll go home and get on my Buckrite and everything like that, get everything fine-tuned up and ready to go," Tetz concluded.
"At the end of the day, it's just bull riding, so you can't overthink it."
As the race to be crowned 2023 World Champion continues to heat up, let's take a look at who's drawing into the lineup during this weekend's PBR Mortgage Union Invitational in New Orleans:
WHO'S IN FOR NEW ORLEANS
Jose Vitor Leme
Kaique Pacheco
Dalton Kasel
Andrew Alvidrez
Cooper Davis
Boudreaux Campbell
Rafael Jose de Brito
Daniel Keeping
Dener Barbosa
Keyshawn Whitehorse
Wingson Henrique da Silva
Jesse Petri
Eduardo Aparecido
Mason Taylor
Silvano Alves
Joao Ricardo Vieira
Eli Vastbinder
Tate Pollmeier
Sandro Batista
Kyler Oliver
Koltin Hevalow
Derek Kolbaba
Manoelito de Souza Junior
Braidy Randolph
Ramon de Lima
Colten Fritzlan
Ezekiel Mitchell
Marcus Mast
Chase Outlaw
Wyatt Rogers
Flavio Zivieri
Tyler Manor
Nick Tetz
Griffin Smeltzer
Claudio Montanha Jr.
Chase Wimer
OUT BECAUSE OF INJURY/OTHER
Luciano De Castro
Marcel Procopio Pereira
Brady Oleson
Jess Lockwood
Casey Roberts
Bob Mitchell
Rafael dos Santos
Austin Richardson
JP Souza
Briggs Madsen
Ednei Caminhas
LEME SET TO DEFEND 71.5-POINT LEAD IN NEW ORLEANS
Two-time World Champion Jose Vitor Leme is set to bring his 71.5-point lead atop the UTB standings into New Orleans after assembling his first multi-ride weekend since Feb. 9-10 in Tulsa, Oklahoma. Courtesy of his 2-for-3 showcase, including successful conversions against Spirit World in Round 1 (87.5 points) and Air Shift in Round 2 (87 points), Leme collected 69 UTB points for his third-place finish. He nearly completed his first flawless weekend since Feb. 3-4 in Sacramento, California, but was bucked off a familiar opponent in Woopaa in a dramatic 6.39 seconds as the bovine athlete recorded his first win against the talented Brazilian rider. Leme had been 4-0 heading into the match, previously recording 94.75, 95.75, 97.75 and 98.75-point scores atop the bovine, with the 97.75 and 98.75-points continuing to represent the highest scores in PBR history. After seeing now No. 2 Kaique Pacheco capture his second UTB event title of the year last weekend and surpass No. 3 Dalton Kasel in the chase for the 2023 World Title, Leme will look to begin his weekend in New Orleans with a successful ride atop Hog Wild, his Round 1 opponent inside Smoothie King Center Friday evening. Pacheco will get a rematch in the opening slate against Kodiac, while Kasel will face off with Raven Friday night in New Orleans.
BEST BULLS IN THE BUSINESS
After seeing the recently-debuted Fastfire dispatch veteran Chase Outlaw in 4.92 seconds two weekends ago in Little Rock, Arkansas, quickly earning a 46.75-point bull score in his first-ever UTB appearance, we've got a new No. 1 atop the bull standings as New Orleans is set to welcome some of the best bucking bulls in the world. Now, with a reputation to defend, Fastfire will represent one of 10 Top 15-ranked bulls scheduled to buck inside Smoothie King Center this weekend, joined by fellow top-end talent, including: No. 2 Cool Whip, No. 4 Flapjack, No. 7 Manaba, No. 9 Blue Duck, No. 10 Alakazam, No. 12 Chateau Montelena's Montana Jacket, No. 14 Red Demon and No. 15 UTZ BesTex Smokestack
ROUND 1 REMATCHES
Eduardo Aparecido vs. Gangster Time (87 points in Semi-Final round of 2022 PBR Team Series Championship in Las Vegas, Nevada)
Kaique Pacheco vs. Kodiac (84 points at PBR ZipRecruiter Invitational, presented by Ariat in Indianapolis, Indiana)
Kyler Oliver vs. Ninja Cowboy (2.43 seconds Navajo Nations Queen Creek PBR in Queen Creek, Arizona)
FOLLOW ALONG
As the best bull riders in the world prepare to roll into The Big Easy March 17-18 for the St. Patrick's Day weekend showcase, the action is set to begin Friday, March 17 at 7:45 p.m. CST, with Round 1 set to air on RidePass on Pluto TV. The second round and championship go are slated to begin Saturday, March 18 at 6:45 p.m. CST, with the entire second day of action set to debut on CBS Sports Network on Sunday, March 19 at 3 p.m. CST.
Fans can stay tuned to PBR.com and PBR social media channels throughout the weekend for the latest scores, wrecks, injury updates and beyond as the Unleash The Beast tour prepares to invade Smoothie King Center during this weekend's PBR Union Home Mortgage Invitational in New Orleans March 17-18.
Photo courtesy of Andy Watson/Bull Stock Media
© 2023 PBR Inc. All rights reserved.