What to Watch For: Moreira Looks to Build off 15/15 Win During ABBI Classic Round in Little Rock
By: Justin Felisko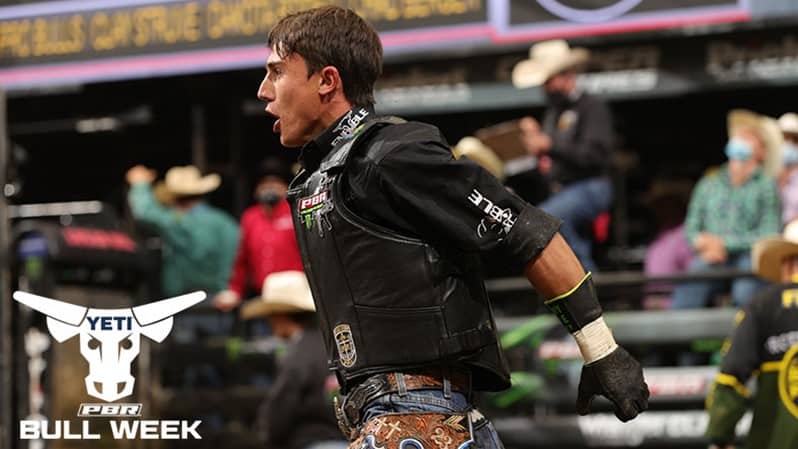 PUEBLO, Colo. – As the PBR continues to celebrate its bovine athletes during YETI Bull Week, the ABBI Classic bulls will take center stage Saturday night during Round 1 of the Bad Boy Mowers Mowdown in Little Rock, Arkansas.
Cuttin Torch is the top ABBI Classic bull slated to compete inside Simmons Bank Arena, and he will face off against Mauricio Moreira.
Top 3 ABBI Classic Bulls
1. Juju ($35,004.02 / 547.45 points)
2. Cuttin Torch ($25,597.26 / 544.9)
3. Manaba ($32,646.70 / 542.25)
Juju is not bucking in Little Rock, while Manaba will square off against Thiago Salgado.
The ABBI Classic bulls are competing for a prize purse of more than $31,000 on Saturday night, with the winning bull collecting more than $8,700.
Moreira heads into Little Rock fresh off his first career 15/15 Bucking Battle victory after riding Stretch for 90.25 points last weekend in Sacramento, California.

The 22-year-old says every ABBI Classic Round is a challenge, but he is ready to take on Cuttin Torch (1-2, UTB) in Round 1 (9 p.m. ET on CBS Sports Network).
Boudreaux Campbell most recently rode Cuttin Torch for 89 points in Tulsa, Oklahoma, to win Round 1 two weeks ago, and Moreira will be one of the favorites to take home the round victory in Little Rock.
Saturday night could be a big night for Moreira as he also has drawn Chiseled (19-13, UTB/METC) for the 15/15 Bucking Battle.
Chiseled is 2-0 against Moreira and 16-3 against left-handed riders at all levels, but Moreira could certainly surpass 90 points aboard the 2019 ABBI Classic champion with a qualified ride.
Meanwhile, Campbell gets a fantastic rematch against the 2020 ABBI Classic champion and current YETI No. 1 World Champion Bull contender Woopaa (5-5, UTB) in the 15/15.
Moreira, the No. 14-ranked bull rider in the world, noted that the blistering, cold conditions in Del Rio, Texas, earlier this year when Chiseled bucked him off in 4.68 seconds for a 46.5-point bull score were not ideal, and he is ready to face Chiseled indoors in Little Rock.
The 6-year-old bovine athlete also picked up 46.25 points in last year's regular-season finale in Nampa, Idaho, with a 3.35-second buckoff of Moreira.
"I will be ready for this moment and this bull because I am starting to ride good," Moreira said. "The last two times I ride him, one it was really cold, and now I think it is a good moment for this. I am ready for him. He is so good. I am ready."
TOP 30 RIDERS OUT OF COMPETITION BECAUSE OF INJURY/OTHER
No. 7 Marco Eguchi (broken right foot)
No. 13 Colten Fritzlan (left shoulder)
No. 22 Cody Jesus (family emergency)
No. 28 Taylor Toves (wrist/hand)
ALTERNATES
No. 32 Thiago Salgado
No. 33 Andrew Alvidrez
TRIPLETT DOWN TO LAST EXEMPTION & OTHER RIDERS COMPETING VIA INJURY EXEMPTIONS
Matt Triplett is down to his final event exemption from his No. 24 finish in last year's world standings and is in jeopardy of being cut from the Unleash The Beast. Triplett is 55th in the world standings and is 4-for-15 (26.67%) on the UTB since missing the first two-plus months of this year recovering from hip surgery that ended his 2020 campaign.
The seven-time PBR World Finals qualifier is 107.5 points outside the Top 30 and 81.25 points behind No. 33 Andrew Alvidrez, who was the last alternate in the draw for Little Rock.
Triplett has drawn Mike's Magic (4-0, UTB) for Round 1.
No. 52 Daylon Swearingen has four more exemptions following Little Rock before facing the cutline. Swearingen takes on Butterfly Kisses (6-0, UTB) in Round 1.
No. 40 Lucas Divino will have two additional injury exemptions after Little Rock. Divino faces DJ Long John (4-0, UTB) on Saturday night.
MANOELITO DE SOUZA JUNIOR IN WORLD FINALS HUNT THANKS TO VELOCITY WIN
Manoelito de Souza Junior's 89.5-point ride on Dang It at the Carolina Classic Pendleton Whisky Velocity Tour event last weekend pushed the 26-year-old right into the thick of the World Finals race.
Souza earned 37 points toward the world standings to go from No. 51 to No. 42.
The Espirito Santo, Brazil, native is only 33.5 points behind No. 35 Eli Vastbinder.
Souza takes on Shaft (0-0, UTB) in Round 1.
LEME'S PURSUIT OF 90-POINT RIDE RECORD

World No. 1 Jose Vitor Leme is tied with Cody Hart for the most 90-point rides in a single season after Hart posted 16 during his 1999 World Championship season.
Leme will attempt to break the record for the second week in a row on Saturday night in Round 1 against Jersey Tuff (2-0, UTB). Jersey Tuff was marked 44.75 points when he bucked off Joao Ricardo Vieira in 3.22 seconds in Tulsa, so Jersey Tuff may be enough bull power for Leme to make history in Arkansas.
Leme has a 470.5-point lead on No. 2 Kaique Pacheco heading into Sacramento.
Following Round 1, Leme faces Blue Crush (28-8, UTB) in the 15/15 Bucking Battle. Leme nearly had a 90-point ride aboard Blue Crush in Omaha, Nebraska, this season when he rode the Cord McCoy bucking bull for 89.25 points.
VIEIRA RETURNING FROM BRAZIL & HAS ONE OF THREE ROUND 1 REMATCHES
Joao Ricardo Vieira is back after missing last week's event in Sacramento to address a personal matter in Brazil.
The No. 5-ranked bull rider in the world has a rematch against Skull Crusher in Round 1. Vieira previously rode Skull Crusher for 79.25 points last season in Des Moines, Iowa. Vieira accepted a re-ride following that matchup.
The other two rematches are Rookie of the Year leader Chase Dougherty against Liston (89.25 points in Nampa, Idaho) and Salgado against Manaba (2.03 seconds in Rainsville, Alabama).
Follow Justin Felisko on Twitter @jfelisko
Photo courtesy of Andy Watson/Bull Stock Media
© 2021 PBR Inc. All rights reserved.