What to Watch For: Vastbinder Ready to Shine, Lockwood Set to Make 2023 Debut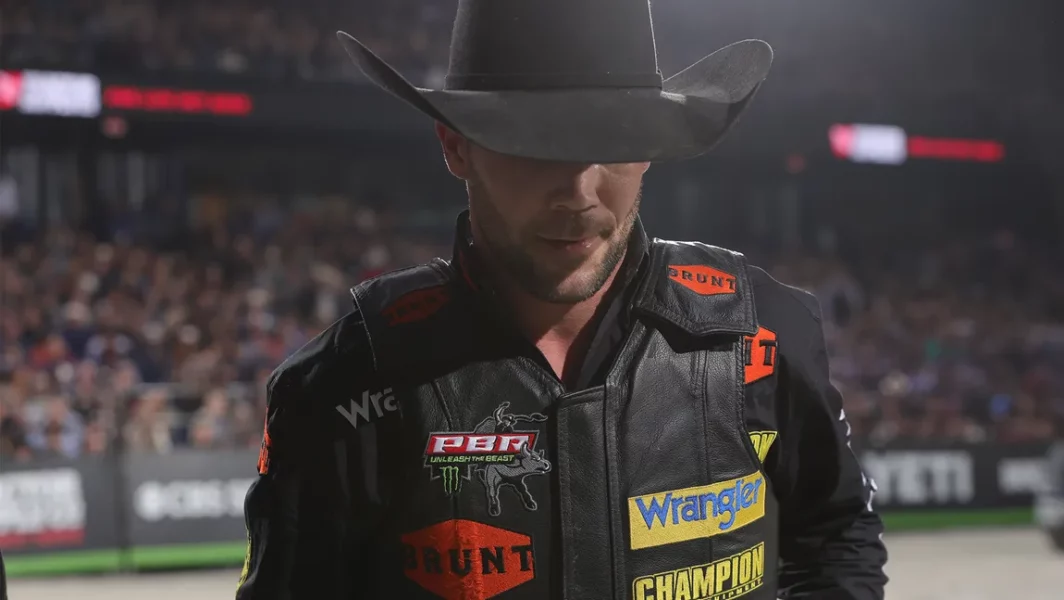 PUEBLO, Colo. – Capped by an impressive 87-point ride aboard a familiar foe in Pookie Holler, Statesville, North Carolina native Eli Vastbinder is feeling himself heading into this weekend's PBR Gwinnett Chute Out in Duluth, Georgia.
The grand finale to his productive weekend was only possible after punching the clock in both of his opening round matchups.
The bronze placing represented the cowboy's first Top 3 finish on the premier series tour since Feb. 4, 2022, when he earned a third-place finish at the PBR Ariat Invitational in Milwaukee, Wisconsin.
But his journey back to the No. 24 rank on the Unleash The Beast tour wasn't an easy one.
Vastbinder began the year in a bit of a funk. After recording a respectable 12th-place finish during the season-opening event in Tucson, Arizona, the rider failed to record any Unleash The Beast points in his next three events.
Getting bucked off in eight straight, Vastbinder managed an 85.75-point ride atop Prisoner in Albany Deec. 30 to salvage 8.50 Unleash The Beast points via finishing in 20th place. Following it up with an 0-for-3 effort inside Madison Square Garden the next weekend, momentum wasn't exactly in the 31-year-old's favor heading into Chicago.
In fact, due to his continued slow start to the season, Vastbinder found himself ranked outside of the tour's top riders, essentially relegated to the Velocity Tour.
Thankfully for Vastbinder, he was added to the contest as an alternate on a last-minute bid, granted another chance to do his job and beat that 8-second clock. One he wouldn't take for granted, either.
First paired against Agent 99 in the Windy City's opening round of action, he was ready to shine.
Matching the bovine athlete jump-for-jump, despite his opponent switching directions nearly halfway through the attempt, Vastbinder earned an 80.25-point score. Declining the re-ride opportunity and thankful for the score, he was officially on the scoreboard for the second time in 50 days.
With something to finally build on, the Oklahoma Freedom's first-round selection in the inaugural PBR Team Series draft wasn't settling for a single good out. He wanted more.
Finding himself atop Show Me Homie in Round 2, Vastbinder doubled down by besting the bovine for 81.5 points.
"I'm just glad to see Vastbinder get back to doing what Vastbinder does: Making good rides, especially away from his hand," Matt West offered Sunday during the CBS Sports broadcast. "This guy isn't a one trick pony, he understands where the front end is and has struggled a bit early on in the season. Glad to see him knock two down."
Eventually completing his flawless weekend with his electric out aboard Pookie Holler, Vastbinder cemented his third-place finish and will look to build on his efforts heading into Duluth.
One of only three riders to produce perfect 3-for-3 showcases, Vastbinder earned 63.5 Unleash The Beast points for his efforts.
WELCOME BACK
Bull riding is a tough sport: mentally, physically, emotionally taxing. On the rider, their family and sometimes even fellow cowboys and industry professionals. If the main goal is to win the contest and stay on your bull, goal No. 2 for riders looking to make a season-long run has to be exiting the dirt healthy, never an easy task. An even harder ask lately for two-time World Champion Jess Lockwood, who's suffered an unorthodox number of injuries since last bucking in February of 2022. Bringing 29 event wins, 41 90-point rides and nearly 500 career outs into his 2023 Unleash The Beast season debut this weekend in Duluth, the riding community is eager to see the veteran make his anticipated return Saturday.
With the two-time World Champion returning to action, let's take a look at who's drawing into the lineup this weekend in Duluth:
WHO'S IN FOR NEW YORK
Andrew Alvidrez
Jose Vitor Leme
Daniel Keeping
Rafael Jose de Brito
Thiago Salgado
Mason Taylor
Silvano Alves
Dalton Kasel
Eduardo Aparecido
Jesse Petri
Kaique Pacheco
Boudreaux Campbell
Luciano De Castro
Keyshawn Whitehorse
Bob Mitchell
Marcelo Procopio Pereira
Derek Kolbaba
Colten Fritzlan
Manoelito de Souza Junior
Sandro Batista
Eli Vastbinder
Koltin Hevalow
Braidy Randolph
Tate Pollmeier
Ezekiel Mitchell
Joao Ricardo Vieira
Chase Outlaw
Casey Roberts
Dener Barbosa
Dakota Louis
Wyatt Rogers
Rafael Henrique dos Santos
Alex Cerqueira
Conner Halverson
Alex Marcilio
Dalton Rudman
Ednei Caminhas
Kyler Oliver
Alisson De Souza
Jess Lockwood
Jake Morinec
OUT BECAUSE OF INJURY/OTHER
Brady Oleson
Briggs Madsen
Chase Dougherty
Clayton Sellars
Cody Jesus
Cole Fischer
Cole Melancon
Cooper Davis
Daylon Swearingen
Ednelio Almeida
Junior Patrik Souza
Lucas Divino
Marcus Mast
Vitor Losnake
Wingson Henrique da Silva
NEWS & NOTES
Through seven events during the 2023 Unleash The Beast season, the tour has seen a combined four different event winners, as Andrew Alvidrez and Jose Vitor Leme have each captured consecutive victories this year. Most recently, it was Leme who was able to capture event titles in his first two events of the season, also chipping in a second-place finish during last weekend's 15/15 Bucking Battle in Chicago. Leme's tour-best 7-for-8 (87.5%) continues to pace UTB riders as the No. 2 ranked competitor will look to claim the No. 1 honors for the first time this season, beginning with a Round 1 effort in Duluth paired against Empty Glass.
Seeing a fellow veteran in Leme steal the show last weekend in Chicago, Kaique Pacheco exited the PBR Tractor Supply Co. Invitational with 100 Unleash The Beast points and a second-place finish. Initially punctuating his successful 3-for-3 weekend with a championship round-best 88.5-point ride atop Tulsa Time to take the lead, the World Champion watched on as Leme stayed perfect as well, edging the 27-year-old in aggregate standings by 2.25 points to steal the win.
This weekend's bull pen will also feature some of the industry's top bulls, including the talents of Chiseled, Legend, Montana Jacket, Ridin' Solo, I'm Legit Too, Smokestack and beyond. Welcoming the bovine to his first event of the season, Cool Whip is also set to make his 2023 Unleash The Beat debut.
ALVIDREZ BRINGS 87.5-POINT LEAD INTO DULUTH
While Leme may be the hottest rider on the Unleash The Beast tour right now, Alvidrez continues to defend his No. 1 rank heading into Duluth this weekend after picking up a pair of consecutive event titles earlier this year. Leading the way by 87.5 points after picking up 51 important Unleash The Beast points last weekend via an eighth-place finish (13 points) at the PBR Tractor Supply Co. Invitational parlayed with a fourth-place showing (38 points) during the first 15/15 Bucking Battle of the season Jan. 13, going 3-for-4 overall. Alvidrez will look to extend his points lead over No. 2 Leme Saturday night during his Round 1 matchup against Nigel, who's yet to surrender a qualified ride in his two professional outs so far.
ROUND 1 REMATCHES
Dalton Kasel vs. Hostage (3.24 seconds at Freedom Days in Oklahoma City, Oklahoma & 3.76 seconds at PBR Tractor Supply Co. Iron Cowboy in Fort Worth, Texas)
Dener Barbosa vs. Rockville (7.53 seconds at PBR Manchester Invitational in Manchester, New Hampshire)
FOLLOW ALONG
Heading into this weekend's event in Duluth, Georgia, the slate of action begins with Round 1 Saturday Jan. 21 at 6:45 p.m. ET on RidePass on Pluto TV and will conclude with the second round and championship session Sunday, Jan. 22 at 8 p.m. ET on CBS Sports Network.
Fans can stay tuned to PBR.com and PBR social media channels throughout the weekend for the latest scores, wrecks, injury updates and beyond as the world's best bull riders get set to duke it out at the PBR Gwinnett Chute Out at South Gas Arena Jan. 21-22.
Photo courtesy of Andy Watson/Bull Stock Media
© 2023 PBR Inc. All rights reserved.