What's on RidePass on Pluto TV This Week: UTB Heads to Newark Live on Pluto TV
By: Darci Miller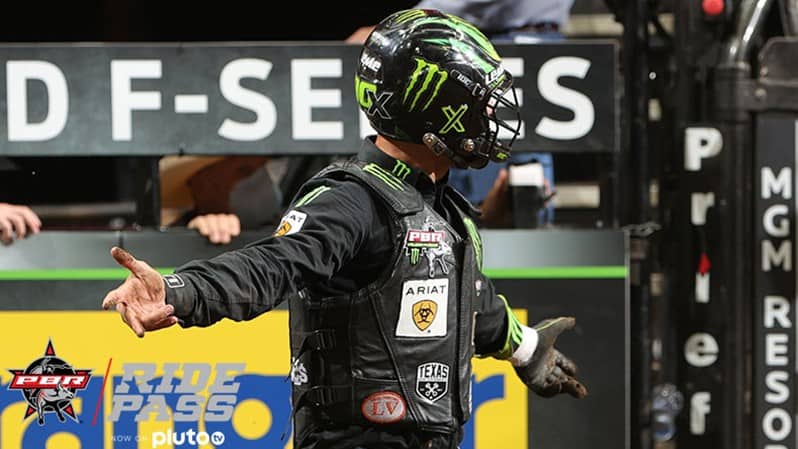 In two months from today, the 2021 PBR World Finals will be over.
That means we're right in the thick of the title race, and it's now or never for the contenders looking to challenge world No. 1 Jose Vitor Leme for the World Championship.
So when the Unleash The Beast hits Newark, New Jersey, this weekend, there's a whole lot on the line, and every single point matters.
Tune into RidePass on Pluto TV (channel 720) to catch Round 1 of the PBR ZipRecruiter Invitational LIVE on Saturday at 6:45 p.m. ET.
(And don't forget that RidePass on Pluto TV features PBR content streaming 24/7 for free.)
Round 1 in Newark won't be your last opportunity to see the premier series live on RidePass on Pluto TV, either. The upcoming events in Fairfax, Virginia; San Antonio, Texas; Greensboro, North Carolina; and Manchester, New Hampshire will also feature select rounds exclusively.
WHERE THINGS STAND HEADING INTO NEWARK: Last weekend in Anaheim, the Jose Vitor Leme show continued in all its glory. At the PBR Monster Energy Invitational, presented by Cooper Tires, Leme went 3-for-3 – winning two rounds in the process – to take the overall event win. The victory was his league-best sixth – sixth! – of the season, and his walk-off 90-point ride on The Good Stuff in the championship round was his record-setting 19th 90-point ride of the season.
Leme is the first rider in PBR history to win six or more events on the premier series in back-to-back seasons. Last season, en route to his World Championship, he won seven. This season, he once again threatens two-time World Champion Justin McBride's single-season record of eight event wins (2007).

Only four riders in PBR history have ever won six or more events in a season, and each one went on to win the world title in that respective season.
For another rider to be a realistic threat to win the world title, he would likely have to be within 800 points of Leme. Right now, the only man in that range is No. 2 Kaique Pacheco (-729.5 points). No. 3 Cooper Davis is 828 points behind, while No. 4 Dener Barbosa is -1,119.17 and No. 5 Joao Ricardo Vieira is -1,144.
Newark is the time to step up to the plate if any of them want to head to T-Mobile Arena in Las Vegas on Nov. 3-7 with a shot at the gold buckle.
THE LAST TIME WE WERE IN NEW JERSEY: This is the first-ever premier series stop in Newark, though the Pendleton Whisky Velocity Tour was there in 2014.
However, the Garden State hosted the premier series three years ago with the Atlantic City Invitational in September 2018.
The Cherokee Kid Ryan Dirteater took home that event victory, going 3-for-3 for his second win of the season. It was the eighth win of his career, and he earned it with a 90.75-point ride on Cochise in the championship round.
"I decided to show up," Dirteater said at the time. "Like this weekend, I showed up. Sometimes I do not mentally show up. This is bull riding. It is a tough sport. If I could figure that, I would be a World Champion. Just like these guys that are World Champions. They figured it out."

Also in Atlantic City, Marco Eguchi won Round 1 – he would go on to claim the PBR World Finals event title – and two-time World Champion J.B. Mauney cracked the Top 35 with a second-place finish in Round 1.
"It is the same mentality I have always had my entire life," Mauney said. "I don't give a shit about the points. The rest will take care of itself. Everybody has been asking about me being down there at the bottom trying to fight your way to the Finals. I don't look at it that way. My fight is with that bull each time I nod my head."
What will the action in Jersey bring this year? Tune into RidePass on Pluto TV Saturday night to find out!
Watch the conclusion of the PBR ZipRecruiter Invitational on Sunday on CBS Sports Network at 8 p.m. ET, and check out the Pendleton Whisky Velocity Tour's Buckin' at the Rock on RidePass on Pluto TV Saturday at 9 p.m. ET.
© 2021 PBR Inc. All rights reserved.