What's on RidePass on Pluto TV This Week: World Title Race Heads to Greensboro
By: Darci Miller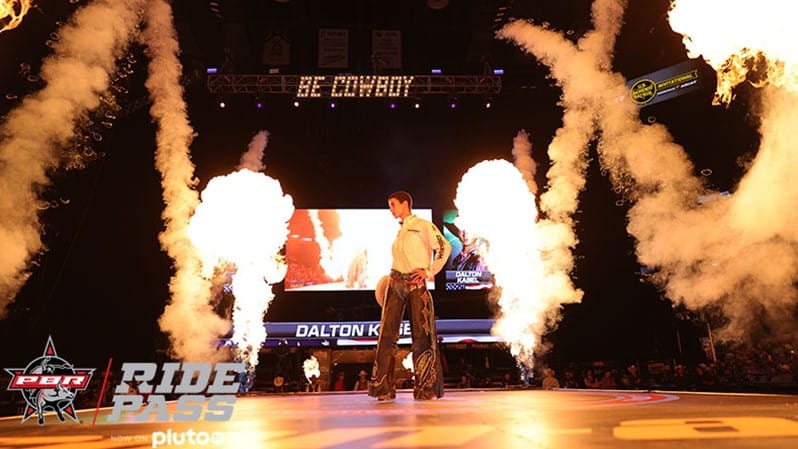 Count 'em: there are just three regular-season premier series events remaining before the PBR World Finals on Nov. 3-7.
This weekend, the Unleash The Beast heads to Greensboro, North Carolina, and you know the action is going to be rank.
Tune into RidePass on Pluto TV (channel 720) to catch Round 1 of the PBR Union Home Mortgage Invitational, presented by Bass Pro Shops, LIVE on Saturday at 7:45 p.m. ET.
(And don't forget that RidePass on Pluto TV features PBR content streaming 24/7 for free.)
Round 1 in Greensboro won't be your last opportunity to see the premier series live on RidePass on Pluto TV, either. The upcoming event in Manchester, New Hampshire, will also feature select rounds exclusively.
WHERE THINGS STAND HEADING INTO GREENSBORO: Last weekend in San Antonio, Texas, we were treated to one of the best rides in PBR history. The second-best ride, in fact.
2019 Rookie of the Year Dalton Kasel showed up huge, going 3-for-3 for his second event win of the season. But all that was a footnote after his championship round-winning ride aboard Woopaa scored a whopping 96.75 points.
If world No. 1 Jose Vitor Leme hadn't set a new record for highest-scoring ride just a few months ago, Kasel would hold that honor.
"I wanted to beat Jose's record, so I went into it with the plan of trying to have the world record for the highest-marked ride," Kasel told PBR.com Monday morning. "I had it planned out that way, and it didn't work out exactly. I saw Jose's bull ride, and I saw what he did in Tulsa, and I wanted to beat that, and I wasn't able to. But I am not going to complain."

Of course, Leme is still week-to-week with a Grade 2 sprain of his right groin suffered in Newark, New Jersey, three weeks ago, throwing an interesting wrench into the world title race.
The injury is not season-ending, nor will it require surgery. With such a large lead in the world standings, it's possible Leme could decide not to return until the World Finals.
In order for another rider to be a realistic threat to win the world title, he would likely have to be within 700-800 points of Leme. Right now, only world No. 2 Kaique Pacheco (-726.5 points) is within that range, while No. 3 Cooper Davis (-809 points) isn't far behind.
In San Antonio, Davis finished fifth overall to pick up 50 world points, while Pacheco went 0-for-2 after his win in Deadwood, South Dakota, and was unable to make up any ground.
THE LAST TIME WE WERE IN GREENSBORO: The premier series was last in Greensboro in October of 2019, when that year's world title race was hitting its fever pitch.
Cooper Davis went 3-for-3 for the event win and was ranked No. 5 in the world standings. But the big news out of this event was Jess Lockwood, then ranked No. 2 in the world, who finished second to gain on then-No. 1 Leme, who placed 10th.
Lockwood, of course, would go on to usurp Leme on the final day of the World Finals to win the 2019 PBR World Championship.
But that wasn't all for Lockwood in Greensboro. He selected Heartbreak Kid – he of an active 38 consecutive out buckoff streak on the premier series – in the championship round.
Lockwood would nearly break his neck in the process, but he hung on for the 8 seconds, breaking the streak with a 93.75-point ride.

"I don't want to go at this world title, pick something like Shownuff and be 90, and know that maybe if I was a little more, I could've won the event," Lockwood said at the time. "I want to freaking pick the biggest, rankest bull that's never been rode, that you're going to be the most on, to give myself the chance.
"I want to know I did everything in my power to try to win this world title."
What will the action in Greensboro bring this year? Tune into RidePass on Pluto TV Saturday night to find out!
Watch the conclusion of the PBR Union Home Mortgage Invitational, presented by Bass Pro Shops, on Sunday on CBS Sports Network at 8 p.m. ET, and watch the Pendleton Whisky Velocity Tour's Wheeling Invitational on RidePass on Pluto TV Friday at 8 p.m. ET.
Also, tune in for the first episode of According to Flint, hosted by Flint Rasmussen, tonight at 9:30 p.m. ET.
© 2021 PBR Inc. All rights reserved.