World Finals Watch: Barbosa hopes Vegas Victory is Precursor for Larger Win at T-Mobile Arena
By: Justin Felisko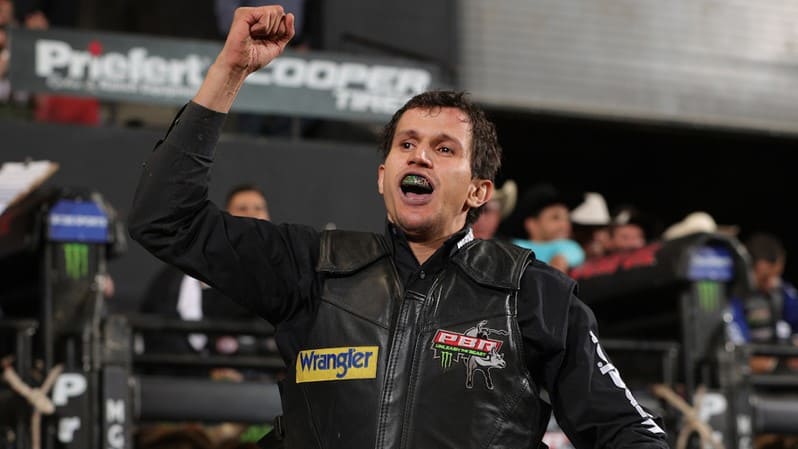 LAS VEGAS – Dener Barbosa let out a big exhale and rubbed his stomach.
"I ate wayyyy to much today," Barbosa said from the dirt of the MGM Grand Garden Arena earlier this month.
Barbosa had just won the PBR Las Vegas Invitational to cap off his impressive first half on the Unleash The Beast, setting himself up for a second half push at the 2021 PBR World Championship.
Come November, Barbosa is hopeful he will get an opportunity to celebrate a potential world title at one of his favorite restaurants in Las Vegas – Fogo de Chao Brazilian Steakhouse. The chain restaurant is a go-to for Barbosa, and it is only 2 miles from T-Mobile Arena, which will be hosting the 2021 PBR World Finals on Nov. 3-7.
Barbosa laughed as he recounted his early dinner at Fogo de Chao on June 12. The 27-year-old loaded up on a little bit to much lamb, rice and beans before heading to the MGM Grand Garden for the final UTB event of the first half.
The four-time PBR World Finals qualifier may have felt a little bloated, but that did not stop him from picking up his first event win of 2021.
Barbosa rode CopperPoint Swagger for 87 points in the championship round only to then be surprised to hear Jose Vitor Leme (3.41 seconds vs. High Brow Cat) and Austin Richardson (5.71 seconds vs. I'm Legit Too) both buck off their final bulls of the event to cement Barbosa the win and put him right in the thick of this season's world title race.

"I went back to the locker room to drink water and I figured I was going to finish in second or third," Barbosa said with the help of Paulo Crimber translating. "Everybody wants to come here and win because Las Vegas is where the greatest events are and superstars make history.
"It feels like this could be the start of history."
The now No. 4 ranked bull rider in the world had been close to winning his first event on three separate occasions in 2021 only to wind up finishing in third place. The stars finally aligned for him in Vegas, and his winning ride came against the same bull who knocked him out of the world title race last season.
Barbosa was eighth in the world standings last season when CopperPoint Swagger broke Barbosa's jaw in three different places after a 5.43-second buckoff, while also fracturing Barbosa's skull and giving him a concussion, in Billings, Montana on Sept. 11. Barbosa would miss the remainder of the regular season before returning for the 2020 Pendleton Whisky Velocity Tour Finals and PBR World Finals.
The Paulo de Faria, Brazil, bull rider has always called that wreck a fluke deal, and he has since gone on to develop quite a repour with CopperPoint Swagger. Barbosa is now a perfect 2-for-2 with the Hart Cattle Company bovine athlete this season.
"People will always remember the accident, but people will also remember i went over the top and rode him for third place and now for a win," Barbosa said.
The victory is extremely important for Barbosa as he tries to jump into the gold buckle battle alongside World Champions Leme, Kaique Pacheco and Cooper Davis.
Barbosa is the highest-ranked rider in the world standings without a gold buckle, and his win this past Saturday at the Slick Rock Challenge Touring Pro Division event has him within 348.67 points of the world No. 1 ranking.
"I am really happy because I knew one time this (UTB win) was going to happen," Barbosa concluded. "I was always getting bucked off one bull here and there, but I have been real consistent for the most part, riding really great. It was always little things that got in the way of me winning, but today was great."
Barbosa is 25-for-50 (50%) with a career-high four 90-point rides on the Unleash The Beast. Barbosa has ridden 50% or more of his bulls in three of the past four seasons. That consistency should keep Barbosa in contention for the world title. Barbosa also needs only 12 more rides during the second half to surpass his career-high of 36 rides during his rookie season (2017).
In 2016, Barbosa went a perfect 5-for-5 at the PBR Brazil Finals in Barretos to win the PBR Brazil championship. Barbosa began those Finals ranked third in the PBR Brazil standings, and he said he is accustomed to battling-from-behind in title races.
"My whole career I have always been the dark horse in the back," Barbosa concluded. "I just need to focus on my bulls and if a world title is going to happen, everyone will see in the end."
© 2021 PBR Inc. All rights reserved.