Wrangler National Finals Breakaway Roping on Tap Nov. 29-30 in Las Vegas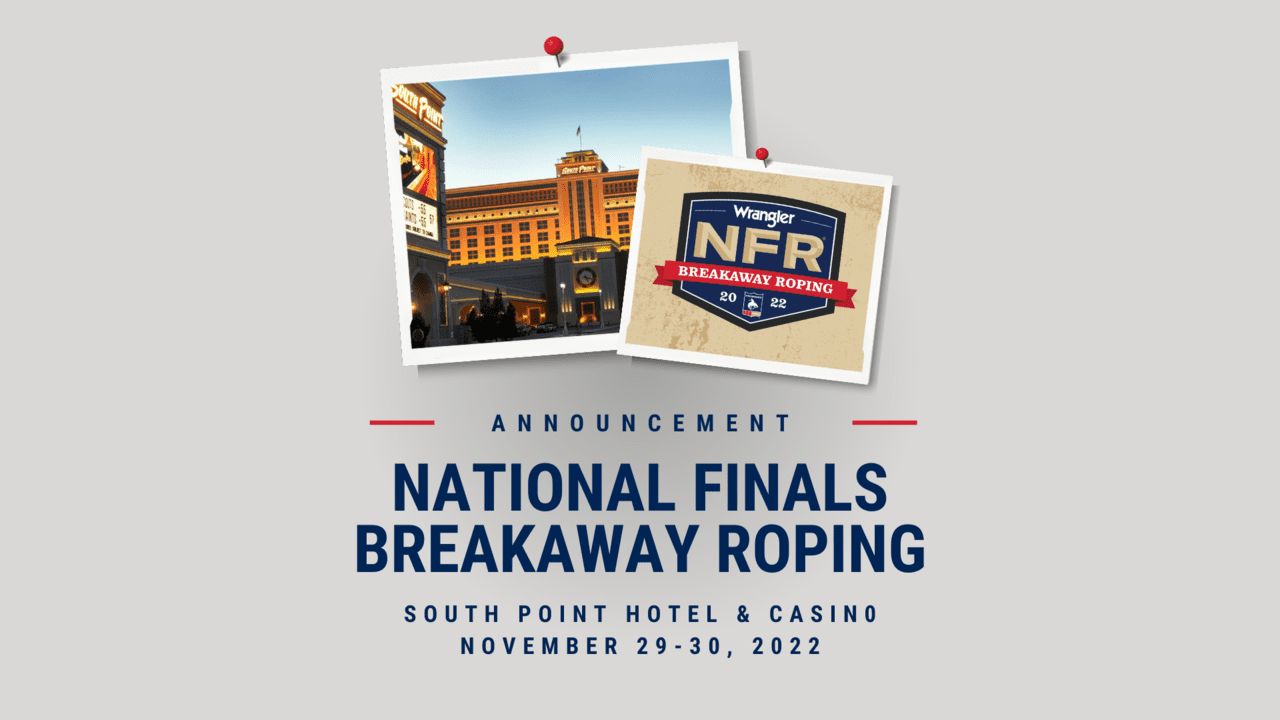 COLORADO SPRINGS, Colo. – The Professional Rodeo Cowboys Association and Women's Professional Rodeo Association announced in a press release that the Wrangler National Finals Breakaway Roping will take place at the South Point Arena & Equestrian Center in Las Vegas, Nov. 29-30.
The Top 15 breakaway ropers will compete for prize money of $250,000 during the two-day, 10-round performance.
"I'm pleased to see the continued success and growth of breakaway roping since the inaugural National Finals Breakaway Roping in 2020," PRCA CEO Tom Glause said. "Breakaway roping has experienced rapid growth and it is now featured at over 300 PRCA rodeos annually. This success has resulted in an increase of prize money at the NFBR to reach $250,000."
The 2022 Wrangler National Finals Rodeo is Dec. 1-10 at the Thomas & Mack Center in Las Vegas.
Jimmie Munroe, WPRA president, also is excited for the 2022 NFBR.
"The WPRA is looking forward to the National Finals in the Women's Breakaway Roping being held at the South Point Hotel and Casino during the the PRCA Convention," Munroe said. "So many committees are having breakaway roping at their rodeos and now they along with fans will have the opportunity to see the best women breakaway ropers in the world compete at the South Point."
The South Point Hotel, which is a hotspot for contestants and visitors during the Wrangler NFR, is glad to be the event venue for the 2022 Wrangler NFBR.
"We are thrilled to host the National Finals Breakaway Roping at the South Point Arena & Equestrian Center," said Ryan Growney, General Manager of the South Point Hotel, Casino & Spa. "When Paula and Michael Gaughan built the South Point, they created a place that Cowboys and Cowgirls could call their home away from home – we call it Vegas Cowboy Central. With the addition of the Breakaway Finals, we'll call it Vegas Cowgirl Central, and it will be an amazing addition to all of the other events and activities held at the South Point during those first two weeks in December."
The 2020 National Finals Breakaway Roping took place at Globe Life Field in Arlington, Texas, in conjunction with the NFR and Jackie Crawford captured the inaugural world championship. Last year the NFBR took place in Las Vegas at the Orleans Hotel and Casino and was won by Sawyer Gilbert.
Courtesy of PRCA