Wrangler WNFR Round 4 News & Notes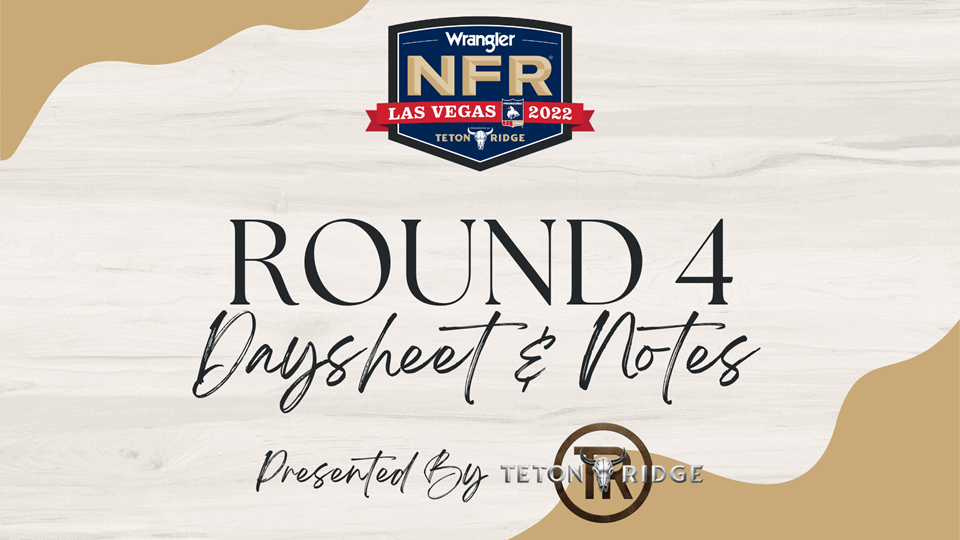 Round 4 – Dec. 4, 2022    Round 4 Daysheet
Country musician and author Adrian Brannan is the opening act, and the national anthem will be performed by contest winner Presley Seal, a 12-year-old girl from Caldwell, Idaho. Polaris is the performance sponsor. It is also MemoriaRound l Night, where a video tribute will be shown right before the start of the rodeo for rodeo people lost in the past year.
WRANGLER NFR LIVE ON TELEVISION AND INTERNET
The 2022 Wrangler National Finals Rodeo® presented by Teton Ridge airs nightly starting Dec. 1 at 5:45 p.m. PST/8:45 p.m. (EST). The Cowboy Channel is the official network partner of PRORODEO® and the exclusive broadcast and streaming partner of the NFR. Live coverage of the NFR can be found on The Cowboy Channel and RFD-TV through its cable and satellite partners, and online at cowboychannelplus.com.
TEAM ROPERS TOMLINSON/SMITH WIN ROUND 3 IN RECORD FASHION
The stage wasn't too big for team ropers – newcomer Tanner Tomlinson and world champion Patrick Smith Saturday night. The duo clocked a Round 3 record 3.6-second time for the win at the 2022 Wrangler National Finals Rodeo presented by Teton Ridge before 17,703 spectators at the Thomas & Mack Center. Tomlinson, 22, is making his NFR debut, and Smith, 42, is returning for the 13th time and first since 2015. "Yeah, it was awesome, the guys right before us (Dustin Egusquiza/Travis Graves) went 3.8," Smith said. "There were a bunch of 4-second runs, so it kind of takes the thinking out of it for us. All we know is we've gotta go fast." Smith has won world titles in 2005 and 2010. Tomlinson acknowledged his history-making run was a blur. "Oh, I have been really nervous the last couple of nights, since this is my first time. It just happened so fast when I'm going after them, after Dustin went, I was just seeing blood."
---
NEWS & NOTES
In bareback riding, six-time PRCA World Champion Kaycee Feild will look for his second go-round win at this year's Finals in a matchup with Powder River Rodeo's Two Buck Chuck. Fellow NFR bareback rider Tim O'Connell was 89.5 points on the horse at the Caldwell (Idaho) Night Rodeo, Aug. 20. R.C. Landingham will go head-to-head with Cajun Queen of Championship Pro Rodeo in Round 4. Chad Rutherford was 90 points on Cajun Queen at the Riggin Rally Xtreme Bareback Riding in Weatherford, Texas, April 10…In saddle bronc riding, Zeke Thurston will have his hands full with Championship Pro Rodeo's Heaven on Earth in Round 4. There has not been a qualified ride on the horse this season, with an average stock score of 45.75. Montana native Chase Brooks hopes to take advantage of his strong stock matchup and build off his Round 3 performance, where he split third. Brooks drew Beutler & Son Rodeo's BDM Mud's Killer Bee, a bucking horse that boasts an average score of 91.17 in three qualified rides in 2022. Killer Bee has had a decorated career and was chosen as the top bareback horse of the 2020 NFR. Fellow NFR competitor Brody Cress rode him to a 92-point ride at the La Fiesta De Los Vaqueros in Tucson, Ariz. in early February…In bull riding, NFR rookie Trey Holston looks to notch his first qualified ride in Las Vegas, drawing Rosser Rodeo's Wing & Barrel. In seven attempts this season, no bull rider has made it to the eight-second mark, including Stetson Wright who rode him at the Rancho Mission Viejo Rodeo in San Juan Capistrano, Calif. in late August. Trey Kimzey seeks to find the pay window again after failing to hear the horn in each of the last two performances. Kimzey will match up with Muddy Creek Pro Rodeo's Spy Glass. His tandem partner is tough. Spy Glass has not allowed a qualified ride in three years, a span that includes 17 attempts.
---
Record times and scores for Round 3 of the Wrangler NFR:
Bareback riding: 90.5 points, Will Lowe, 2004 Ty Breuer, 2017 Tim O'Connell, 2020
Steer wrestling: 3.1 seconds, Dean Gorsuch, 2013
Team roping: 3.5 seconds, Brady Tryan/Jake Long, 2010
Saddle bronc riding: 90.5 points, Jesse Kruse, 2009
Jesse Wright, 2012
Tie-down roping: 6.6 seconds, Cody Ohl, 2009
Barrel racing: 13.11 seconds, Wenda Johnson, 2021
Bull riding: 92 points, Jesse Bail, 2001 Paulo Crimber, 2004