Wrestling Champ Piva Looking to Crack Top 35
By: Justin Felisko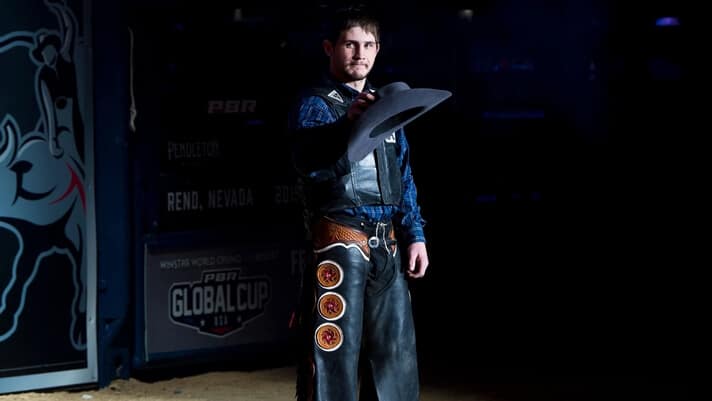 SIOUX FALLS, S.D. – There used to be a time when Ruger Piva could grapple his opponent and body slam them onto the red and blue, sweat glistening gym mats in pure domination.
Piva would beam with pride as the referee raised his hand in victory, while his peer would be on the mat struggling to stand, mired in agony and defeat.
In fact, the two-time Idaho State High School Wrestling champion (152 pounds) won 101 straight matches at Challis High School in Challis, Idaho, before walking on to Boise State.
Piva eventually transferred to Montana Western following a few months at Boise State, and he went on to win the 2015 National Collegiate Wrestling Association national title at 165 pounds.
Nowadays, Piva has been the one being slammed more times than not.
Frankly, he hates that part of professional bull riding.
No one loves losing, but no bull rider is going to ride 101 consecutive bulls. Especially considering these bovine beasts weigh 10 times more than his wrestling foes.
It is that challenge of trying to ride every, single bovine beast that has Piva motivated.
Piva heads into this weekend's First PREMIER Bank PREMIER Bankcard Invitational in Sioux Falls, South Dakota, ranked No. 36 in the world standings.
The 23-year-old finally broke out of a 0-for-9 start to his premier series career last weekend in Tacoma, Washington, by riding Golden for 86 points and Dead Calm for 84.75 points.
Piva was bucked off by Homegrown in the championship round to finish a career-high seventh overall.
The Challis, Idaho, native almost turned down a draw spot for Tacoma because he was so frustrated by his previous performances on the Unleash The Beast.
"It took me a long time to just kind of settle down and just kind of get on these bulls," Piva said in Washington. "I almost thought about not coming this weekend, just taking a break. But you've got to battle through it and ride your way out of a slump.
"It's just kind of been embarrassing for me here because I know I'm better than what I've shown."
Piva previously rode Golden to win the bull riding at the 2018 Cheyenne Frontier Days Rodeo last summer – one of the biggest victories of his two-year rodeo career – and split the victory at the New Town, North Dakota, Touring Pro Division event with current world leader Chase Outlaw.

The PBR will be holding its next PBR Major – Last Cowboy Standing – at Cheyenne Frontier Days on July 23-24.
"That was probably the most nervous I've been on any of these bulls, just because, like I said, there's kind of a history in the past year," Piva said. "I've been on him three times and never been under 85 points, so I had to make it count again this weekend."
Piva is set to take on Getting Hammered (4-1, UTB) in Round 1 in Sioux Falls on Friday night.
He is only 7.5 points behind No. 35 Dakota Buttar.
Piva began rodeoing at 9 years old, and he would compete as an all-around cowboy in high school.
However, the third generation wrestler was always focused on the mat first and foremost.
Piva's grandfather, Joe Piva, and great uncle, John Piva, were his wrestling mentors. John led Challis' wrestling program for 32 years, winning four state titles and getting elected to the Idaho chapter of the National Wrestling Hall of Fame.
"Wrestling was every bit of my focus," Ruger said. "I would wrestle from about November until the end of April and then I would get pretty burnt out by it cutting weight and getting my ass kicked every day."
Joe was also a bull rider locally in Idaho, and he was the one that instilled Ruger with his love of bull riding.
Ruger would rodeo during the summer months before making a return to wrestling in the fall/winter.
Just before he headed to Boise State, Piva realized he could potentially earn a decent living bull riding after winning a series of open bull ridings around the house.
Piva still had goals though of wrestling at the Division I level, though, but things did not go as Piva would have hoped for at Boise State.
He struggled inside the classroom and eventually lost an opportunity to earn a scholarship.
Piva, therefore, transferred to Montana Western to wrestle and compete for the Bulldogs rodeo team.
"I wrestled at Boise State before they let me go," Piva admitted. "It was my fault. I wasn't doing too good with grades and they let me go. I was on the team when I got there, but I just didn't have any money. They said if I did good at some tournaments they would probably give me some money. By November they said my grades aren't so great and we have to put more money to these other wrestlers."
Piva has been relying on his wrestling background as he continues to attempt to ride full time in the PBR this year.
2019 is Piva's first in the PBR after he spent the previous two years pro rodeoing.
"I like the hard work for it," Piva said. "You never quit. I would get hit in head quite a bit because I don't want to ever say I am done or I am out. I would like to get a score every time."
2017 World Champion Jess Lockwood also was a two-time high school state wrestling champion before his PBR career.
Lockwood has talked about the benefits of his wrestling background, and he even trained alongside Team USA a month after he won his world title.
Piva, who is heavier than Lockwood, is hoping to have the same kind of success Lockwood had.
"I still work out quite a bit," Piva said. "I am probably a little bit to muscular. I have been doing some Crossfit and getting my weight back down. I would like to be back to 155.
"Hopefully as long as everything keeps going, I will be back down."
Piva is 10-for-25 at all levels of competition this season with two victories – his first of his career at the New Town, North Dakota, Touring Pro Division event and then at the Reno, Nevada, Pendleton Whisky Velocity Tour event in January.
He remains in the hunt for a 2019 PBR World Finals qualification thanks to his last-minute decision to ride last weekend in Tacoma, and Piva knows this is where he wants to stay.
"Well, it just crazy how that stuff works out sometimes," Piva said. "I just had to relax. When I got here this weekend, I really got nothing else to lose and a lot to gain.
"This is where I want to stay, so I am going to keep riding."
Follow Justin Felisko on Twitter @jfelisko
© 2019 PBR Inc. All rights reserved.