Young Riders Showcasing Team Brazil's Potential Depth
By: Justin Felisko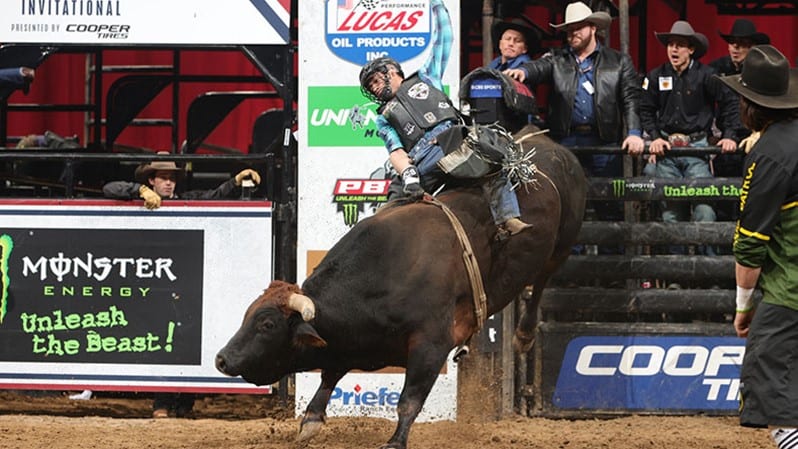 ST. LOUIS – Rafael Henrique dos Santos and Mauricio Moreira have dreams of wearing their nation's colors and competing at the PBR Global Cup someday.
As of this weekend, though, that will not be the case for either of the two rising stars from the South American bull riding power after neither rider was selected to Team Brazil for the upcoming PBR Global Cup USA on March 5 at AT&T Stadium.
Santos and Moreira each have the utmost respect for Team Brazil coach Robson Palermo. Still, the two riders admitted their disappointment on Friday night after finishing second and third in Round 1 of the PBR TicketSmarter Invitational, presented by Cooper Tires.

"Without a doubt," Santos said with the help of Paulo Crimber translating when asked if he was bummed not to be on the team. "Especially being right-handed. I consider myself a really strong right-handed rider. That's the dream for everybody, to represent your country. But the team right now is really strong too. I think they're still going to be able to win. It is going to be Brazil."
With a shrug and jovial laugh, Moreira added, "I don't know why Robson don't call me. What's going on? I am a little bit (disappointed). I think I'm good rider to be with the team. But Robson knows what he is doing. I just think I'm a good rider. I can compete with these guys. I just want to still ride. Maybe I can try to win $2 million in the American (March 6 at AT&T Stadium)."
The fact of the matter is that Palermo and the other Global Cup coaches had the tough task of narrowing down a roster to five selections – the smallest in any PBR Global Cup – and his final decision shows just how stout Team Brazil will be in two weeks.
TEAM BRAZIL
Two-time World Champion Jose Vitor Leme
2018 World Champion Kaique Pacheco
World No. 1 Joao Ricardo Vieira
World No. 6 Dener Barbosa
Three-time World Champion Silvano Alves
The team has six combined PBR World Championships. That total may be seven if Vieira continues to ride as he has through the first seven Unleash The Beast events of the year.
Brazil has such a strong offering of riders that it could, in theory, field a second team that could be just as competitive as some of the other nations at the upcoming Global Cup.
"Yeah, it would've been great because all the guys are together," Santos said. "I think it would be a good matchup if we had another team."
Moreira added, "Yeah, it would be strong if we had two teams. Like the old (guys) and the young ones. But I want to put Jose on my team, okay?"
A second Team Brazil of old and new, though, featuring Moreira, Santos, Luciano de Castro, Marcelo Procopio Pereira and 2018 World Finals event winner Marco Eguchi could certainly hold its own.
In fact, Eguchi and Castro already have Global Cup victories on their resumes.
Eguchi was a rider for the last Brazil team to be victorious in the international bull riding team competition and went 1-for-2 at the 2019 PBR Global Cup in Arlington, Texas.
Castro, meanwhile, was a huge impact rider at the 2018 Global Cup in Sydney, going 3-for-3 to help Team Brazil hold off Team Australia in the Land Down Under.
The No. 7-ranked bull rider in the world finished Round 1 in St. Louis in fourth place with an 88.5-point ride on Bottoms Up.
Fans can watch the conclusion of the event in St. Louis Sunday on CBS national television at noon ET.

Castro has seen some comments on social media in Brazil stating he should be on the team, but he is okay with Palermo's decision.
Still, it is an honor, Castro says, to know fans think he deserves a spot on the 2022 squad, but he will be cheering on his friends no matter what. He still bleeds green and yellow.
"It's no problem for me because I did not ride in five months last year," Castro said. "I'm back now. I make good rides now. For me, it's no problem, because you have one good team, good guys – Silvano, Kaique. Silvano has good mental. Kaique is the ice man – Jose, Joao. You have one good team.
"The internet is talking up PBR Brazil. Everybody talking, 'I need Luciano on this.' For me, it's a good team."
Follow Justin Felisko on Twitter @jfelisko
Photo courtesy of Andy Watson/Bull Stock Media
© 2022 PBR Inc. All rights reserved.