Zeke Thurston Steals Rodeo Austin Spotlight with 91-Point Ride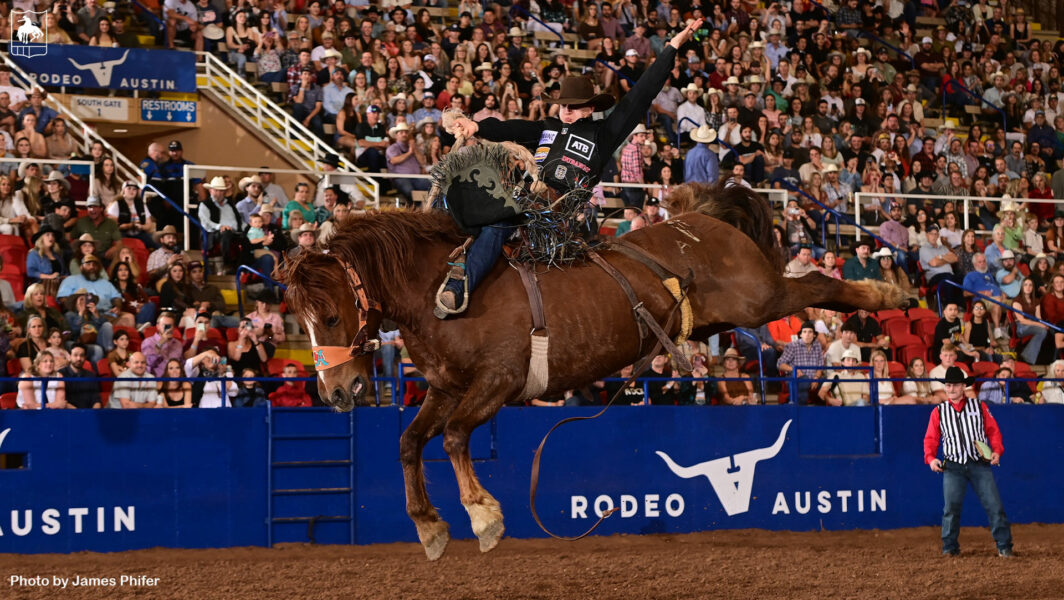 AUSTIN, Texas – On Dec. 10, saddle bronc rider Zeke Thurston split the Round 10 win aboard Andrews Rodeo's All or Nothin with an 89.5-point ride at the 2022 Wrangler National Finals Rodeo presented by Teton Ridge.
It was the last piece in Thurston's magical NFR that saw him win his third PRCA World Championship.
Fast-forward to March 23 at Rodeo Austin and Thurston's rematch on All or Nothin was even better.
The Big Valley, Alberta, cowboy went to the top of the leaderboard in the playoff round with a 91-point trip on the standout horse.
"He finished things off for me in Las Vegas (at the 2022 NFR) to win a world title and I can't say enough good things about that horse," said Thurston, 28. "Today he just stayed down the pipe and was kicking hard and you can't ask anymore from a bucking horse than that."
The playoff round will conclude at 7 p.m. (CT) on Friday and will be broadcast on The Cowboy Channel and The Cowboy Channel Plus App.
The top eight playoff round finishers in each event will move on to the finals at 7 p.m. Saturday, which is where Thurston will be vying for the rodeo title at the Playoff Series rodeo.
"My whole family was here watching, my wife, my daughter and my son," Thurston said. "It is a lot of fun having them here supporting me. No matter how you do, win, lose or draw they don't know the difference I'm still just dad to them. They love it and they enjoy coming and it is a great way to spend time together."
Thurston, who finished last season with $399,916 and earned $256,078 at the NFR, would love to add another Rodeo Austin crown to his impressive resume. He won the rodeo in 2017.
"I won here once and was second here last year, so it has treated me good," Thurston said.
Truth be told, Thurston acknowledged he's still trying to digest his incredible 2022 campaign, especially in Vegas, where he placed in nine rounds highlighted by winning Round 4 outright and splitting Round 10.
"I had a really slow start to the year last winter," Thurston said. "I didn't hardly win any money or make any short rounds. Things picked up as the summer went on. The fall of 2022 I went up there to Canada and I won the Canadian Finals and the Canadian World Championship. I got the ball rolling and I have been riding that wave ever since. It has been a lot to take in."
Other contestants who advanced to the final round with their performances Thursday were bareback rider Rocker Steiner (86.5 points on Andrews Rodeo's Fressno); steer wrestler Joshua Hefner (3.6 seconds); team ropers Payden Emmett/Lucas Falconer (5.5 seconds); breakaway roper Hali Williams (3.2 seconds); tie-down roper Hunter Herrin (7.7 seconds); barrel racer Amanda Welsh (14.97 seconds); bull rider Zach Miles (84 points on Beutler & Son Rodeo's Black Panther).
Courtesy of PRCA