ZipRecruiter Top Recruit: Nobles Looking to Capitalize Close to Home After Earning One of the Final Spots for San Antonio
By: Justin Felisko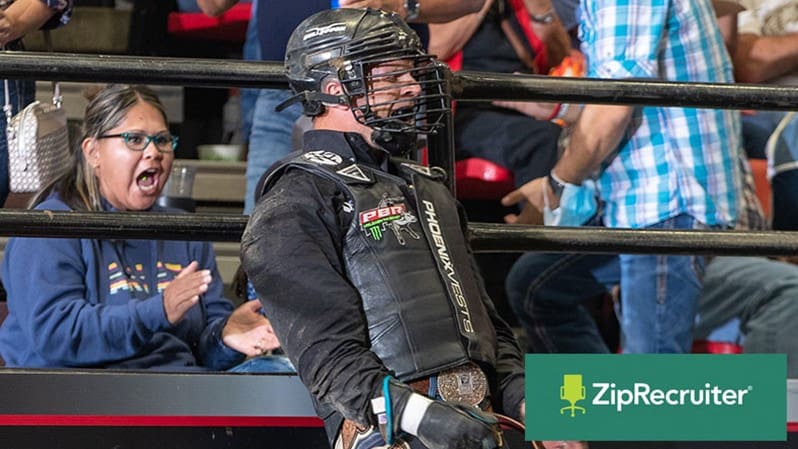 PUEBLO, Colo. – Lane Nobles was struggling to find a place to compete earlier this year after electing to sit out the 2020 rodeo season because of the COVID-19 pandemic and to give his battered body a chance to heal.
Nobles, who has a laundry list of injuries like so many other bull riders, found himself in a predicament this past January. He had lost most of his qualifications, and he could not get into many of the rodeos he had hoped to ride at this winter.
Therefore, Nobles decided to purchase his PBR card and dedicate himself to more than a handful of PBR events for the first time since 2014.
That decision has paid off with Nobles rising to No. 19 in the Pendleton Whisky Velocity Tour standings and making his Unleash The Beast debut in Jacksonville, Florida, on May 22. Nobles would compete at two additional premier series events, notching his first UTB ride at Iron Cowboy in Fort Worth, Texas (86.5 points on Happy Gambler) in August.
"I started going to what I could get into to make money, and it kind of has worked out pretty good," Nobles said in Fort Worth. "I've let a couple split by me at first coming up here, but it felt good to get one knocked out. I started getting a little more consistent, getting things figured out, and it's been a little better."
There is a greater opportunity sitting in front of Nobles before pursuing the $50,000 Pendleton Whisky Velocity Tour Championship on Oct. 30-31 at the South Point Arena & Equestrian Center.
Nobles, the No. 57-ranked bull rider in the world standings, received one of the final draw spots for this weekend's PBR U.S. Border Patrol Invitational, presented by Ariat, after reigning World Champion Jose Vitor Leme and No. 5 Dener Barbosa doctored out of the upcoming event in San Antonio on Wednesday.
The West, Texas, cowboy has drawn Baby Gangster (2-0, UTB) for Round 1 (8:30 p.m. ET on RidePass on Pluto TV) as he attempts to crack the Top 35 and qualify for his first PBR World Finals.

This weekend will be close to a home game for Nobles, who grew up about 200 miles north of San Antonio.
"I love riding bulls, and I love doing this," Nobles said. "When I can take (my family) and have everything lined out, it is much better for me."
Nobles qualified for the Texas State High School Rodeo Finals as a bull rider in 2009, and he graduated from Mart High School among a tiny class of 45 people. His father, J.D., rode in the PRCA, and Lane began riding bulls at 16.
Lane's professional career got off to an unfortunate start when he broke his neck at 19.
"I broke my neck C5 about 10 years ago," Nobles said. "They put plates and screws in there and bolted me together and said it wouldn't break there again. Luckily it hasn't messed up, and it hasn't hurt me, and I got all my movement back. That is when I was kind of starting out, and I hadn't really gone anywhere. My dad wouldn't let me go at first because he rode bulls and he didn't want me to. So, I didn't get to go, and then I broke my neck very early on and tried to go from there."
Nobles would eventually win seven Touring Pro Division events from 2012-2014 before attempting to rodeo full time.
Injuries, though, would always seem to get in the way of any momentum Nobles would garner.
"I picked it up, and I would start getting them rode, and then I would get wiped out and be sidelined for a while," Nobles said. "When I was younger, I would try to go, but I would ride one and buck off. I went to a bunch of pro rodeos and did good, but every summer, I would get knocked out and have to go home and be out for five or six months.
"To be honest with you, I was king of living day-to-day trying to make what I could. I would get in a bind or a hole, and then I couldn't go."
This year, though, Nobles is having the best year of his career. He went 5-for-15 at a few rodeos and is 8-for-24 in the PBR.
Nobles did have to sit out the past three weeks because of a lacerated finger he sustained at the PBR Tri-Cities Classic in Kennewick, Washington, on Sept. 10, but he has since been cleared to return.
The 30-year-old is 102.5 points out of the Top 35 with a month remaining until the 2021 PBR World Finals begins on Nov. 3 at T-Mobile Arena.
There is currently only one other bull rider 30 years or older who is on pace to qualify for his first PBR World Finals – Eli Vastbinder – and Nobles, of course, would be thrilled to join Vastbinder in Las Vegas.
"Shoot, it would be real good to make the Finals," Nobles concluded. "That is what we shoot for every time. Events like these, with money like this, shoot, it can help set my family up for whatever they want."
PENDLETON WHISKY VELOCITY TOUR UPDATE
The Pendleton Whisky Velocity Tour heads to Hampton, Virginia, Saturday for the Hampton Classic. Some of the riders tentatively expected to compete in Hampton are No. 55 Grayson Cole, No. 62 Alvaro Aguilar Alvarez, No. 74 Joe Hostetler, No. 78 Bob Mitchell and No. 87 Quentin Vaught.
Follow Justin Felisko on Twitter @jfelisko
Photo courtesy of Andre Silva/Bull Stock Media
© 2021 PBR Inc. All rights reserved.