ZipRecruiter Top Recruit: Salgado's Backflip is a Nod to 2010 World Champion Renato Nunes
By: Justin Felisko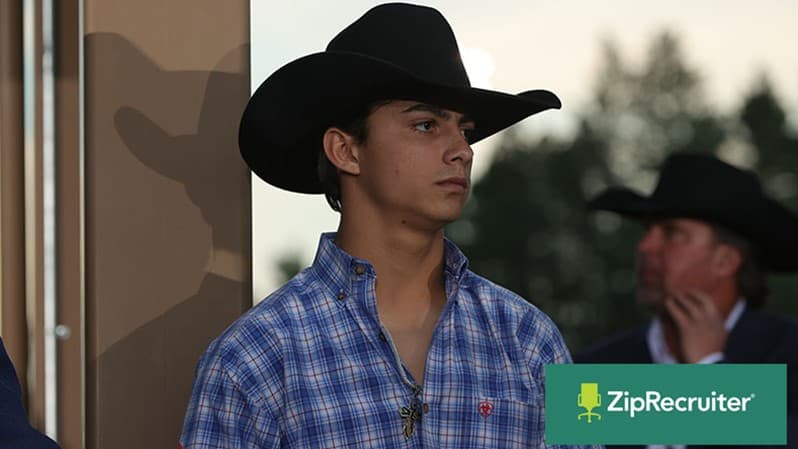 PUEBLO, Colo. – Thiago Salgado may have only been 11 years old at the time, but he has yet to forget the ride that 2010 World Champion Renato Nunes made aboard Air Time on March 9, 2014.
Nunes took the soon-to-be fan-favorite bucking bull to the 8-second mark amidst a plume of dust inside Talking Stick Resort Arena in Phoenix, Arizona, to the tune of 92.5 points. The Buritama, Brazil, bull rider then headed over to the side of the arena, where he then climbed up the fence and did a celebratory backflip to the road of the crowd.
It was a moment that imprinted upon Salgado.
"I was always a big fan of Renato," Salgado said with the help of Paulo Crimber translating. "He was a great bull rider and was always aggressive. I always liked watching guys who were aggressive and always went 100%. I saw that ride of his on Air Time, and that backflip, and I said, 'Well, one day that is going to be my deal, and I am going to be doing the same thing in that arena.'"
Seven years later, Salgado is taking small steps toward possibly becoming a modern-day Nunes, bringing PBR fans to their feet by doing his own backflips after the similar-in-stature rider reaches the 8-second mark on the Unleash The Beast.

The 19-year-old is one of four riders nominated for Best Celebration in the inaugural Golden Barrel Awards. Also in contention for the award alongside Salgado are Mauricio Moreira, Ezekiel Mitchell and Jose Vitor Leme.
Head over to the Golden Barrel Awards page to cast your vote.
Salgado, though, will need a few more backflips this year if he hopes to be riding at his first PBR World Finals on Nov. 3-7 at T-Mobile Arena.
The 5-foot-4 bull rider is ranked No. 36 in the world standings and is a mere three points behind No. 35 Taylor Toves. Salgado currently would qualify for the World Finals in the No. 36 spot seeing as No. 23 Colten Fritzlan is out recovering from reconstructive shoulder surgery.
Salgado missed Championship Sunday at the PBR U.S. Border Patrol Invitational, presented by Ariat, last weekend after he aggravated a pre-existing right shoulder injury in Round 1, but he is set to return to action this Saturday in Greensboro, North Carolina, at the PBR Union Home Mortgage Invitational, presented by Bass Pro Shops.
Salgado informed PBR.com this week that he will likely need to undergo reconstructive shoulder surgery at the end of the season.
"My shoulder is wearing (down) more and more, but I can stand it until the Finals (are over)," Salgado said. "After the Finals, I will have surgery."
Salgado has drawn Canadian Mist (43-7, UTB) for Round 1 on Saturday night.
J.W. Hart and Hart Cattle Company announced Wednesday on social media that this weekend will be Canadian Mist's final out of his career.
The 8-year-old bull is a four-time PBR World Finals qualifier and is 43-7 on the premier series in his career since first debuting in 2017.
Round 1 airs exclusively on RidePass on Pluto TV at 7:45 p.m. ET.
Salgado is 6-for-23 (26.09%) in 13 Unleash The Beast events. He is also ranked No. 27 in the Pendleton Whisky Velocity Tour standings and could also use the Pendleton Whisky Velocity Tour Finals on Oct. 30-31 at the South Point Arena & Equestrian Center to punch his ticket to the World Finals.
"My body is not 100%, but my head is ready for any bull," Salgado concluded.
Follow Justin Felisko on Twitter @jfelisko
Photo courtesy of Andy Watson/Bull Stock Media
© 2021 PBR Inc. All rights reserved.