ZipRecruiter Top Recruit: Souza Looks to Push Ahead in Rookie of the Year Race
By: Justin Felisko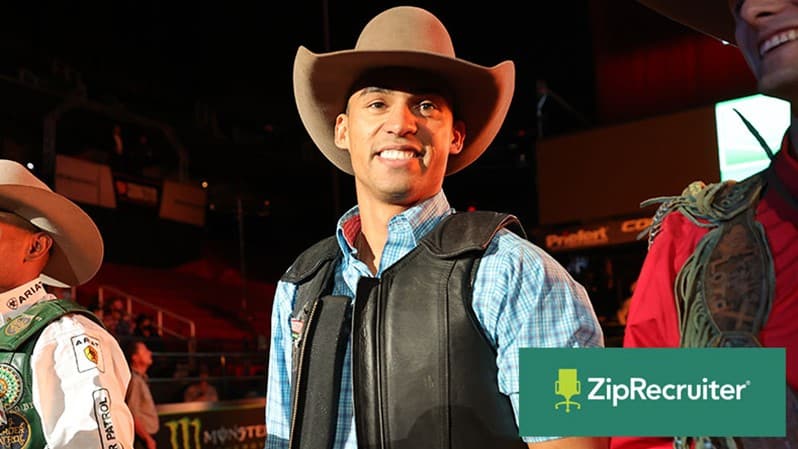 PUEBLO, Colo. – After moving to the United States in January 2019, Junior Patrik Souza was at home in Mato Grosso, Brazil, two years ago during the summer break when he started seeing a bull rider by the name of Dalton Kasel keep popping up on social media and RidePass.
Kasel seemingly came out of nowhere in the summer of 2019, earning an exemption to make his Unleash The Beast debut from the PBR competition committee following an impressive summer Touring Pro Division run and soaring to the 2019 Rookie of the Year title despite competing only in 10 UTB events.
Souza was impressed by the then-20-year-old.
"I remember thinking, 'Dalton is a very good bull rider. I need to be the same as this guy,'" Souza, who is six years older than Kasel, recalls thinking.
Souza, who finished that 2019 season ranked 86th in the world standings, has thought about Kasel's 2019 season this year as he looks to lock down his own Rookie of the Year title.

If Kasel could win the title in half a season, Souza believes he can push forward and take the PBR's top rookie honor with his own stellar second half.
"I remember watching Dalton Kasel, and he was the champion in Big Sky and was riding good," Souza said. "I remember he would be in first place in the short go and then buck off. There were multiple weekends he was so close to first place, and then he finally won Nampa."
Souza took over the No. 1 ranking in the Rookie of the Year race two weeks ago with a second-place finish in San Antonio. The 28-year-old will attempt to win the first event of his career this weekend at the PBR Monster Energy Invitational in Manchester, New Hampshire.
Drago (19-2, UTB) awaits Souza, the No. 11-ranked rider in the world, in Round 1 Friday night at SNHU Arena.
The 2021 Rookie of the Year race is the closest title race currently in the PBR, with the Top 5 rookies separated by 180 points in the standings. Souza leads No. 2 Chase Dougherty by 23 points, while Rafael Henrique dos Santos (-67.5 points) is out of competition with a groin injury.
"This year is not easy to win Rookie of the Year," Souza said. "A lot of these guys are very good. I believe in God, and I believe in me. I am happy to stay with everybody, and I promise to do my best to ride my bull, do my job, and the best rider will be the champion. I think every one of us is very good."
Souza believes this year's rookie class could be one of the better ones in recent years if the group continues to evolve and improve.
"This year, if you are Rookie of the Year, it is better than other years because everybody is very good," Souza said. "If you get first place, this means you had a very good year."
Souza is 20-for-73 (27%) this season on the Unleash The Beast with four Top-5 finishes.

PBR Director of Livestock Cody Lambert told the Cowboy Channel after San Antonio that he has seen Souza taking the next step in his own development this season.
"He has come a long way in a short period of time because, at this time last year, he wasn't close to riding these types of bulls," Lambert said. "He is just getting it done. He is a little stronger to the left than he is to the right on bulls, but he is figuring it out. If he would quit worrying about whether they are spinning to the right or left and go back to the middle of that bull every time, he will have a better chance. He is strong, and he is getting better at the right time of year because the World Finals is just weeks away."
Souza, who began riding bulls in Brazil as a way to provide income for his single mother and brother, eventually earned a full-time draw spot on the Unleash The Beast last season, similarly to Kasel in 2019, in the second half after flashing some of his talents at the Monster Energy Team Challenge.
Souza had initially qualified for his first World Finals as an alternate via his No. 40 world ranking, and he thought he would have a chance to attempt to win the Rookie of the Year at AT&T Stadium in Arlington, Texas.
However, Souza tested positive for COVID-19 days before the World Finals and could not compete. Therefore, seeing as he did not ride at the Finals and was never ranked inside the Top 30 of the world standings, he did not lose his Rookie of the Year eligibility.
Souza is hopeful to now finish out his dream this year at T-Mobile Arena when the Finals get underway on Nov. 3.
"Last year was horrible because I could not ride," Souza said. "But I am still very happy. This is my dream. My whole life in Brazil, I watched PBR, and I had the idea that one day I would go and compete for Rookie of the Year.
"After last year, I thought this year will be my year."
Follow Justin Felisko on Twitter @jfelisko
Photo courtesy of Andy Watson/Bull Stock Media
© 2021 PBR Inc. All rights reserved.