Love & Try: Stories of Gratitude and Grit From Professional Bull Riding Wins Big Honors at Western Heritage Awards
By: PBR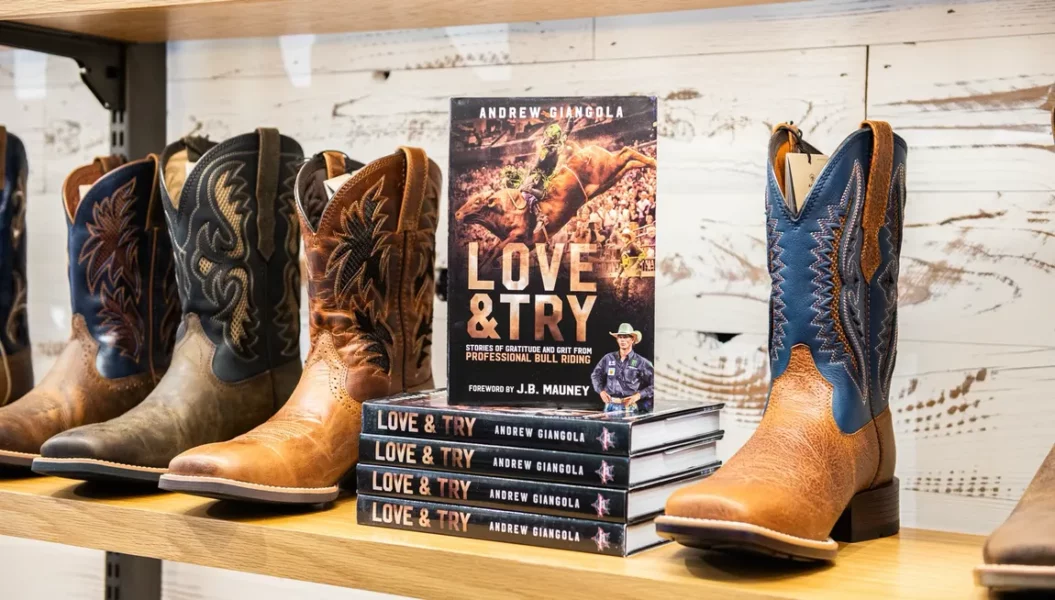 PUEBLO, Colo. – For all the accolades and honors bestowed upon Sam Shepard throughout his magnificent half-century career, including an Academy Award and Pulitzer Prize, the legendary actor, author, playwright, screenwriter and director once admitted one award meant the most to him – The Wrangler.
The Wranglers are given each year at the Western Heritage Awards, recognizing outstanding works in television, film, music and literature at a black-tie ceremony known as The Cowboy Oscars, which takes place at the National Cowboy and Western Heritage Museum in Oklahoma City.
And now through a labor of love of one of its employees, PBR can also lay claim to a Wrangler.
While the sport's elite series was getting ready to buck bulls in Billings, Montana, last Saturday night, Love & Try: Stories of Gratitude and Grit from Professional Bull Riding, a vivid, heartfelt book filled with inspiring stories of resilient bull riders, animal-nurturing stock contractors, PBR's salt-of-the-earth crew and a few big-hearted uber-fans was awarded the Wrangler for outstanding non-fiction book of 2022.
In its review, Men's Journal called the work "harrowing and humorous, tragic and triumphant, compellingly human."
The New York Post labeled Love & Try "an all-American celebration of faith, freedom and country," while Gold Buckle magazine called it, "one of the most insightful and exhaustive accounts of the sport yet published."
With PBR set to have its permanent Hall of Fame in the popular cowboy museum, The Wrangler was presented by PBR CEO and Commissioner Sean Gleason to author Andrew Giangola, who leads the organization's PR team and wrote most of the book when COVID-19 shut down in New York City, where he lives.
"I get to take this kick-ass Wrangler trophy back to Brooklyn," Giangola said in accepting the award. "But, by rights, it's the property of every gritty, gracious person covered in Love & Try, as well as anyone who's ever wrapped their hand in a rope in a curious, courageous, completely crazy attempt at staying on the bull underneath them for 8 very long seconds.
"In a better world, recognition for a book celebrating values like cowboy heart, determination and un-toxic masculinity wouldn't be confined to gatherings like this. Our world is far from perfect, but thankfully, buoyed by the love and try of everyone living the Western way, we're moving in the right direction."
The author and co-publisher PBR's proceeds from the book are donated to the Western Sports Foundation to support injured bull riders.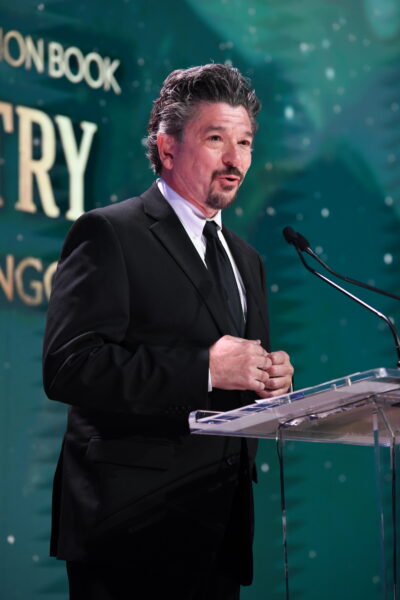 "I occasionally suffer a hang nail banging out a press release; bull riders seriously put it all on the line," Giangola said. "Reading these stories can support those who are injured and working hard to get back to the job they love."
The awards program was a stream of recognition of similar labors – and careers – infused with a passion for Western themes expressed and shared selflessly and authentically.
Filipe Masetti Leite initially came from a small town in Brazil but had a very big dream – to cross nearly half the world on horseback. He rode his horses Frenchie and Bruiser from his adopted home of Calgary, Alberta, to his family's homestead in Brazil – a two-year trek of more than 16,000 kilometers across 10 international borders, captured in Long Rider, which was honored as the year's best documentary.
"If you have a dream and work for it, absolutely nothing is impossible," said Leite, who encountered harsh weather, rough terrain, danger, violence and angels in disguise along the way.
Anouk Krantz considers herself a Frenchwoman living the American dream, and like Giangola, can be seen as an outsider journeying into new places to witness and record the vibrant American spirit.
Krantz, who has published two previous photo books on American cowboys, shot one of the country's most spectacular working ranches spanning more than 300,000 acres in the heart of Wyoming for RANCHLAND: Wagonhound, named top photography book.
Other winners included: Dead for a Dollar (Theatrical Motion Picture); "Monster Slayer, Dark Winds S1, E1" (Fictional Drama); Westbound (Traditional Western Music Album); "Blues for 66" (Original Western Music Composition); Last Dirt Embrace (Poetry Book); and Red Steagall is Somewhere West of Wall Street (Western Lifestyle Program).
Steagall was also honored with a Lifetime Achievement Award.
Pete Coors, former Chairman of Molson Coors, was only the third person to receive the Western Visionary Award. He called the honor, "one of the proudest occasions of my life."
An avid conservationist and longtime supporter of The National Western Stock Show, Coors spoke of the four pillars that brought him massive success in a fifth-generation family business: family, friends, faith, and Western heritage.
Every attendee at the Cowboy Oscars was given a metal card emblazoned with the "Code of the West" including tenets like "Live each day with courage," "Be tough but fair," "Always finish what you start," and "Remember that some things aren't for sale."
Coors said he strives to live by the Code every day.
In accepting the Lifetime Achievement Award, actor, writer and director Lou Diamond Phillips, who first broke through to superstardom as Ritchie Valens in La Bamba in 1987, emotionally shared the influences shaping a distinguished life.
Phillips, a Navy brat born in the Philippines and raised in Texas, remembers shows like Gunsmoke, Bonanza, Wanted Dead or Alive and Rifleman constantly on the TV at home.
"I was always imitating these amazing performers and dreaming of the day I could do that," he said on the broadcast carried live on Wrangler Network.
These were Phillips' personal morality tales, what he calls "a tapestry of right versus wrong," representing what he'd stand for and represent in life.
"I looked at this heroism, and it was easy for me to aspire to it," he said. "You say what you mean, and you mean what you say. You look a person in the eye and tell the truth. You stand up and do what's right. All these things that go into playing a Western character were easy for me, because I learned it at home from my dad, the man who instilled in me everything that has brought me to this stage tonight."
Similarly, Red Steagall, receiving the Lifetime Achievement Award, remembered the enduring influence of his mom.
Even at 84 years old, when making a decision today, Steagall says he wonders "if my mom would approve."
The 62nd annual Western Heritage Awards, emceed by actor Moses Brings Plenty, best known for his role as Mo on television's No. 1 drama "Yellowstone," was held in the same beautiful ballroom that the PBR Heroes & Legends ceremony will relocate to, as the leading bull riding organization partners with one of the world's most extraordinary cultural institutions.
Throughout the night, the vibe was an upbeat, wholly positive affirmation of hard work, honesty, and a relentless pursuit of excellence.
In a museum housing one of the best American Indian art collections, Master of Ceremonies Plenty closed out the ceremony by acknowledging his Native mentors in saying, "The warrior walks humbly upon the earth. I'm asking you to be warriors, but with humility, kindness and understanding."
© 2023 PBR Inc. All rights reserved.