Trevor Brazile went from one stage to another Tuesday night, from giving out a music award to becoming the most decorated cowboy in the history of rodeo. Life as a celebrity presenter at the American Country Awards was fun for Brazile, but taking center stage at rodeo's marquee event meant more to the legendary roper. Brazile and his wife, Shada, handed out one of the early awards at the Mandalay Bay Events Center before dashing to the Thomas & Mack Center, where both competed before 17,306 fans in Round 6 of the 55th annual Wrangler National Finals Rodeo.It was a memorable night for the 37-year-old Brazile, who clinched his unprecedented 19th world championship by surpassing one of his childhood heroes, steer roper Guy Allen. Brazile grew up studying Allen's technique, which produced 18 world championships, all in steer roping."I'd never have dreamed of setting 19 world championships as a goal, because I'm into setting goals I can reach," Brazile said. "I watched Guy Allen dominate. I wondered how someone could do something as hard as winning a world championship 18 times. It's a little different, because he did it in one event. I witnessed his dominance firsthand, because I was the bridesmaid on many occasions."Brazile was still processing the momentous occasion."This is a little bit surreal," he said. "It sounds like a number to most people. Just because you have 18 doesn't mean they give you 19. World titles never get any easier to win, and that's why they all hold special meaning for me. There are 15 guys in every event here every year, and none of them just lie down and let you have it. This is what we dream about from when we were little. No one wants to let go of that part of it."Other cowboys marvel at Brazile's success, especially since the end of his run seems to be on a faraway horizon. "Trevor's got enough gold buckles that he's using them for Christmas tree ornaments," said his team roping partner, Patrick Smith, who won a team roping world championship with Brazile in 2010. Brazile clinched his coveted gold buckle in style, by winning Round 6 in the team roping with Smith in 4.8 seconds. "We were needing to win," Brazile said. "I love those situations, because as a professional, those are great opportunities. To win the round to get it done is awesome; pretty cool to put an exclamation point on it." The win extended Brazile's record for round wins to 55 and pushed his 2013 Finals earnings to $57,392; he also won $26,462 in the National Finals Steer Roping, which resulted in his 18th world championship. For the 2013 season, Brazile's earned $312,579. Team roping heeler Jade Corkill, the defending world champion, is second in the all-around standings with $153,159. Brazile's brother-in-law, two-time defending World Champion Tie-down Roper Tuf Cooper, has $144,743. "When you're in the middle of it, people don't realize how big a deal Trevor is," Smith said. "When he retires, people will really realize what a legend Trevor is." Brazile boasts a well-rounded resume, with titles in four events. Over the course of his incredible career, Brazile has claimed 11 gold buckles in the all-around (2002-04, 2006-13), four in steer roping (2006-07, 2011, 2013), three in tie-down roping (2007, 2009-10) and one in team roping (2010). "Guys like Jim Shoulders (16-time world champion), Guy Allen and Ty Murray make you realize it is possible," Brazile said. "Those cowboys raised the bar. When I won my seventh gold (all-around) buckle, only one other guy (Murray) knew what that felt like. To carry that statement a little further with 19 gold buckles is pretty special. I'm happy, and I'm proud of the sport. I know how hard every world championship is to win. I know great cowboys with one world title ... or even none. None of them are ever easy. NFR qualifications aren't easy. I've been blessed way more than I could ever believe." Smith is proud to have been part of the legendary run. "To be in the middle of it and be the guy who was roping with him when he won his team roping title is very special to me," said Smith, who partnered with Brazile the last seven years. "We've had a lot of fun together, and it's been a great ride. We've had a lot of success together as a team." Allen, who has great respect for Brazile's ability and work ethic, knew his record would someday be eclipsed. "It was coming, and I told him that a couple weeks ago," Allen said. "I thought it was going to be five years ago. I told him I thought he'd double my total. You've got to be impressed with what he's done. He's worked at it." Allen figures Brazile's records could last forever. "You never know," Allen said. "I don't think anybody will beat (Trevor's record), even if he never wins another one." Brazile, whose rookie year was 1996, won his first gold buckle in 2002, for the all-around. In the last eight years, he's captured 16 world championships, including eight straight all-around titles. Trevor and Shada each won checks in Rounds 4 and 5, marking the first time that a husband and wife had finished in the money in consecutive rounds since team roper Turtle Powell and Molly Powell managed it in the ninth and 10th rounds in 2004. Brazile, a header, and Smith are both eighth in the world standings; they're also eighth in the average. "It's been a rough team roping all the way around," Smith said. "For all the people watching at home, it's not as easy as it looks. It's like sitting at home watching a football game wondering why they throw interceptions or fumble the ball. "This is one year that I really felt like there were 15 teams that had a legitimate chance at a gold buckle when we got here. Nobody knows what the future holds. There are still four more rounds, and there's no way to predict what's going to happen next. In the team roping, crazy things can happen and they usually do. The story (of the world championship race) won't be told until after the 10th go-round. I just hope I'm in the middle of it." Reigning Saddle Bronc Riding World Champion Jesse Wright stole the spotlight back from his twin brother, Jake, who won two of the first five rounds, and Cody, the world standings leader, by finishing first. He rode Stace Smith Pro Rodeo's Goin South for 83.5 points. "I've been on Goin South before and had some success," Jesse Wright said. "I won the Amarillo (Wrangler) Champions Challenge on him and then placed on him here last year. He's a strong horse." Jesse Wright, who entered the rodeo second in the world standings, slipped to seventh halfway through the 10-day event, but the victory moved him back to fifth, less than a round win behind brother Cody. "All of the other guys here ride outstanding, and I have to do the same if I want to beat them," Jesse Wright said. "I'm pretty stoked to have gotten this thing rolling tonight and I'm ready for the next four nights." Casey Colletti continued his sensational comeback and won the bareback riding for the second straight night, after spraining the medial collateral ligament in his knee in Round 3 and getting bucked off in Round 4. He rode J Bar J's Smack Daddy for 86.5 points; the win was sealed when world standings leader Bobby Mote missed his horse out as the final rider. "I was climbing up on the fence and saw him," Colletti said. "They tried to get me to climb up on the victory lap horse before Bobby rode, but I told them I wouldn't do it. I guess I'm superstitious about that. I did it once and the last rider beat me." Mote fell to 12th in the average; he was sixth after Round 5. Mote remains atop the world standings, but leads Kaycee Feild, who is second in the average, by only $4,360. Colletti's phone was inundated with 29 voice messages and 27 text messages from his friends and family. He had celebrated with family and sponsors after winning Round 5. "We had a little fun at the MGM and then got a limo for 15 or 16 of us, mostly all family and a sponsor, to go to the buckle presentation at South Point (Hotel, Casino & Spa). We got a party bus for the ride back." Colletti said his right knee felt good for the second night in a row. Justin Sportsmedicine Program Director Rick Foster said he's surprised Colletti has performed so well since getting injured. "Most other athletes, like football players, wouldn't be running for a couple of weeks with a moderate MCL sprain," Foster said. "Casey was up the next night. He's been coming in for ice, heat and (electrical stimulation) twice a day. He's also getting on the bike." "Man, (the knee) felt awesome," Colletti said after his winning ride. "The (Justin) Sportsmed guys have been awesome taking care of me. I'm starting to feel it now. I guess it was about the same today, a little stiffer because I didn't get to do all my rehab stuff. I had to do some autograph signing for my sponsors, but that's OK. I'll be happy to do that every time." He rode Smack Daddy for 85 points and second place in the long round at the San Angelo (Texas) Rodeo on Feb. 16 and said he "was so glad to have her" again. After the bareback riding ended, Pete Carr's Classic Pro Rodeo's Wise Guy was honored in the arena. Wise Guy, who was in the re-ride pen but did not perform in Round 6, is being retired after helping Caleb Bennett to a Round 1 win. Bennett leads the bareback riding average. Two-time Steer Wrestling World Champion Dean Gorsuch won the bulldogging with a 3.2-second run, four-tenths better than Tyler Pearson. Gorsuch, who also won Round 3, moved up to third in the world standings, less than $16,000 behind leader Casey Martin. Gorsuch, who entered the WNFR in eighth place, has won $46,575 at the Finals, more than any other steer wrestler. He's sixth in the average. "This feels great. It's just a blessing," Gorsuch said. "I've been drawing good steers and I feel like I can't waste them. The first three rounds, there were a couple there I felt like I should've won more on than I did. I wasted them and I didn't want to let that happen and it's easy to let that happen. So, it was good to get things straightened back out."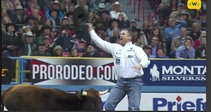 Justin Maass turned his Finals around by winning the round in 7.2 seconds, one-tenth over Cody Ohl's record for the sixth round. It's the first check ($18,630) Maass has earned in six rounds. Shane Hanchey was second in 7.3 seconds; he leads tie-down ropers in earnings with $58,894 and is first in the average. Ohl, who won two of the previous three rounds outright and split the third one, had a time of 8.9 seconds and failed to earn a check. Maass, who was second in the world last year, said, "I came out here in the lead last year and I never won a round. Really, I didn't rope to try and win go-rounds last year; I roped to try and win the average and place along the way, and it just didn't quite work out in my favor in the end. "Putting 18 grand in the checking account is sure going to help things and hopefully we can just pin our ears and go at them from here on out and maybe get a little bit more stacked up." Maass switched horses after the first two rounds, and it finally paid off. "I bought a horse in August - I call him Niko - and I have ridden him quite a bit and I was pretty excited about him," Maass said. "I thought he would really fit this setup. Honestly, he probably does fit this setup, but the first two calves I had weren't great and I didn't do a very good job and I blamed it on him and I got back on old faithful, my horse Oz. He won Horse of the Year in 2008 and he's like part of our family. We've had him for seven years now." Maass didn't win without a difficult moment. "That calf was just so good and I missed my slack," he said. "Then my (right) boot hung up on something. I don't know if my spur hung or what, but my foot was pulling out of the boot and my boot was almost halfway off. I was trying to push my heel down, running back to get on, and I still didn't get it back down in my boot. But when it works, it works." It worked for bull rider Trevor Kastner, whose 88-point ride on Corey & Lange Rodeo's Wild Eyes was the first, and best, of the night when 10 cowboys completed their eight-second rides. "Everybody rode well, but it came down to who drew the best bull, and I think that was me," Kastner said. "That bull kicks out pretty hard and turns back and has a lot of timing, so he's a good bull. Chandler Bownds rode him for 87.5 in the first round, so I knew he was a good one." Kastner shared second place in Round 4, and feels he has momentum heading into the final four nights. "I'm feeling good and holding up physically pretty well for the number of bulls I've been on so far," Kastner said. "I haven't stayed on as much this year as I have in the past, but it does help that I have a few years of experience here under my belt." Taylor Jacob, the Women's Professional Rodeo Association Rookie of the Year, raced to her third round win in a WNFR record 13.37 seconds, nine-hundredths better than Carlee Pierce's previous mark set in 2011. Second was defending champion Mary Walker in 13.64 seconds. "It is just so amazing," Jacob said. "When they came to get me for the victory lap, someone said I needed to try and breathe because I just couldn't believe what had just happened. I had never said it out loud, but that was one of my goals for this Finals. My mom asked me the other night what the arena record was and I said, 'I don't know, but if I break it, they will tell me.'" Jacob plans to celebrate her Round 6 victory in an unusual way on Wednesday. "My mom said that if I won the round tonight, she would go with me to the Stratosphere and bungee jump," she said. The 23-year-old Jacob has climbed from ninth to third ($145,855) in the world standings, although she trails leader Sherry Cervi ($217,830) by a wide margin. Cervi leads the Ram Truck Top Gun Award standings with $70,413; the award goes to the contestant who wins the most money in one event at the Finals. Cervi has earned a check in all six rounds, and has two round wins. J.W. Harris, who leads the bull riding world standings and average race, is second to Cervi with $67,007, followed by Jacob ($63,802), Hanchey ($58, 894), Ohl ($53,936), saddle bronc rider Wade Sundell ($52,985) and Jake Wright ($50,180). Wrangler National Finals Rodeo Thomas & Mack Center, Las Vegas - Round 6 Bareback riding: 1. Casey Colletti, Pueblo, Colo., 86.5 points on J Bar J's Smack Daddy, $18,630; 2. Caleb Bennett, Morgan, Utah, 84, $14,724; 3. Wes Stevenson, Lubbock, Texas, 83.5, $11,118; 4. Will Lowe, Canyon, Texas, 83, $7,813; 5. J.R. Vezain, Cowley, Wyo., 82.5, $4,808; 6. (tie) Ryan Gray, Cheney, Wash., and Clint Cannon, Waller, Texas, 81.5, $1,502 each; 8. Kaycee Feild, Payson, Utah, 81; 9. Steven Peebles, Redmond, Ore., 79; 10. Austin Foss, Terrebonne, Ore., 78.5; 11. Jessy Davis, Power, Mont., 76; 12. (tie) Ty Breuer, Mandan, N.D., and Jared Smith, Cross Plains, Texas, 74 each; 14. (tie) Bobby Mote, Culver, Ore., and Steven Dent, Mullen, Neb., NS. Steer wrestling: 1. Dean Gorsuch, Gering, Neb., 3.2 seconds, $18,630; 2. Tyler Pearson, Louisville, Miss., 3.6, $14,724; 3. Dakota Eldridge, Elko, Nev., 3.8, $11,118; 4. (tie) Hunter Cure, Holliday, Texas; Bray Armes, Ponder, Texas, and Wade Sumpter, Fowler, Colo., 3.9, $5,208 each; 7. (tie) Jason Miller, Lance Creek, Wyo., and Luke Branquinho, Los Alamos, Calif., 4.0 each; 9. Casey Martin, Sulphur, La., 4.2; 10. (tie) K.C. Jones, Decatur, Texas; Jule Hazen, Ashland, Kan., and Stan Branco, Chowchilla, Calif., 4.3 each; 13. Straws Milan, Cochrane, Alberta, 15.2; 14. (tie) Trevor Knowles, Mount Vernon, Ore., and Matt Reeves, Cross Plains, Texas, NT. Team roping: 1. Trevor Brazile, Decatur, Texas/Patrick Smith, Lipan, Texas, 4.8 seconds, $18,630 each; 2. Riley Minor, Ellensburg, Wash./Brady Minor, Ellensburg, Wash., 5.0, $14,724; 3. Nick Sartain, Dover, Okla./Rich Skelton, Llano, Texas, 5.2, $11,118; 4. Luke Brown, Stephenville, Texas/Kollin VonAhn, Blanchard, Okla., 5.4, $7,813; 5. Colby Lovell, Madisonville, Texas/Martin Lucero, Stephenville, Texas, 5.8, $4,808; 6. Drew Horner, Plano, Texas/Buddy Hawkins II, Columbus, Kan., 5.9, $3,005; 7. Dustin Bird, Cut Bank, Mont./Paul Eaves, Lonedell, Mo., 8.9; 8. Charly Crawford, Prineville, Ore./Ryan Motes, Weatherford, Texas, 9.2; 9. Brandon Beers, Powell Butte, Ore./Jim Ross Cooper, Monument, N.M., 10.2; 10. (tie) Clay Tryan, Billings, Mont./Jade Corkill, Fallon, Nev.; Kaleb Driggers, Albany, Ga./Travis Graves, Jay, Okla.; Erich Rogers, Round Rock, Ariz./Cory Petska, Marana, Ariz.; Derrick Begay, Seba Dalkai, Ariz./Cesar de la Cruz, Tucson, Ariz.; Turtle Powell, Stephenville, Texas/Dugan Kelly, Paso Robles, Calif.; and Justin Van Davis, Madisonville, Texas/Clay O'Brien Cooper, Gardnerville, Nev., NT. Saddle bronc riding: 1. Jesse Wright, Milford, Utah, 83.5 points on Stace Smith Pro Rodeo's Goin South, $18,630; 2. (tie) Chad Ferley, Oelrichs, S.D., and Taos Muncy, Corona, N.M., 82, $12,921 each; 4. (tie) Jacobs Crawley, Stephenville, Texas, and Cole Elshere, Faith, S.D., 81, $6,310 each; 6. Tyler Corrington, Hastings, Minn., 80, $3,005; 7. Wade Sundell, Boxholm, Iowa, 79; 8. Cort Scheer, Elsmere, Neb., 78.5; 9. Heith DeMoss, Heflin, La., 78; 10. Cody Wright, Milford, Utah, 77.5; 11. Isaac Diaz, Desdemona, Texas, 75.5; 12. Jake Wright, Milford, Utah, 74.5; 13. Bradley Harter, Weatherford, Texas, 71.5; 14. (tie) Sterling Crawley, Stephenville, Texas, and Chet Johnson, Sheridan, Wyo., NS. Tie-down riding: 1. Justin Maass, Giddings, Texas, 7.2 seconds, $18,630; 2. Shane Hanchey, Sulphur, La., 7.3, $14,724; 3. (tie) Tyson Durfey, Colbert, Wash., and Clif Cooper, Decatur, Texas, 7.4, $9,465 each; 5. Tuf Cooper, Decatur, Texas, 7.5, $4,808; 6. Shane Slack, Idabel, Okla., 7.8, $3,005; 7. Randall Carlisle, Baton Rouge, La., 8.3; 8. Timber Moore, Aubrey, Texas, 8.6; 9. Scott Kormos, Teague, Texas, 8.7; 10. Cody Ohl, Hico, Texas, 8.9; 11. Ryan Jarrett, Comanche, Okla., 9.2; 12. Caleb Smidt, Bellville, Texas, 9.4; 13. Trevor Brazile, Decatur, Texas, 9.9; 14. Stetson Vest, Childress, Texas, 10.3; 15. Sterling Smith, Stephenville, Texas, 14.1. Barrel racing: 1. Taylor Jacob, Carmine, Texas, 13.37 seconds (new NFR record), $18,630; 2. Mary Walker, Ennis, Texas, 13.64, $14,724; 3. Brittany Pozzi, Victoria, Texas, 13.69, $11,118; 4. Sherry Cervi, Marana, Ariz., 13.75, $7,813; 5. Fallon Taylor, Whitesboro, Texas, 13.76, $4,808; 6. (tie) Christy Loflin, Franktown, Colo., and Lisa Lockhart, Oelrichs, S.D., 13.87, $1,502 each; 8. Trula Churchill, Valentine, Neb., 13.93; 9. Kaley Bass, Kissimmee, Fla., 14.05; 10. Shada Brazile, Decatur, Texas, 14.09; 11. Sabrina Ketcham, Yeso, N.M., 14.22; 12. Michele McLeod, Whitesboro, Texas, 18.88; 13. Jane Melby, Burneyville, Okla., 18.91; 14. Jean Winters, Texline, Texas, 19.18; 15. Sydni Blanchard, Albuquerque, N.M., 19.29. Bull riding: 1. Trevor Kastner, Ardmore, Okla., 88 points on Corey & Lange Rodeo's Wild Eyes, $18,630; 2. J.W. Harris, Mullin, Texas, 86, $14,724; 3. Cody Teel, Kountze, Texas, 85.5, $11,118; 4. (tie) Chandler Bownds, Lubbock, Texas; Parker Breding, Edgar, Mont., and Tyler Smith, Fruita, Colo., 85, $5,208 each; 7. Cooper Davis, Jasper, Texas, 83.5; 8. Trey Benton III, Rock Island, Texas, 82.5; 9. Shane Proctor, Grand Coulee, Wash., 76.5; 10. Josh Koschel, Nunn, Colo., 72; 11. (tie) Cody Campbell, Summerville, Ore.; Cole Echols, Elm Grove, La.; Elliot Jacoby, Fredricksburg, Texas; Steve Woolsey, Payson, Utah; and Tyler Willis, Wheatland, Wyo., NS.
The PRCA, headquartered in Colorado Springs, Colo., is the largest and oldest professional rodeo-sanctioning body in the world. The recognized leader in ProRodeo, the PRCA is committed to maintaining the highest standards. The PRCA, a membership-based organization, sanctions approximately 600 rodeos annually, and there are more than 30 million fans in the U.S. The PRCA showcases the world's best cowboys by televising the sport's premier events, including the Wrangler Million Dollar Gold Tour presented by Justin Boots, the Justin Boots Playoffs and Championships, Ram National Circuit Finals Rodeo, All American ProRodeo Finals, Champions Challenge, PRCA Xtreme Bulls Tour and the world-renowned Wrangler National Finals Rodeo on Great American Country (DISH Network 165, DirecTV 326). Each year, PRCA-sanctioned rodeos raise more than $26 million for local and national charities. For comprehensive coverage of the cowboy sport, read the ProRodeo Sports News, the official publication of the PRCA, and for daily updates of news and results visit the PRCA's official website, www.prorodeo.com.