Reno Rodeo Day Three Results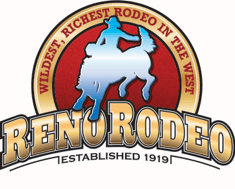 RENO, Nev. – Day three of the 102nd celebration of the Reno Rodeo was full of exciting feats and surprising turns. 2020 Resistol Rookie of the Year Cole Reiner took the victory lap in bareback tonight thanks to an 85.5 point ride, but Tilden Hooper showed the crowd why he's No. 1 in the world with an 87 point re-ride.
Hometown favorite Wyatt Denny of Minden, Nev., had an impressive 84.5 point ride and tied for third with Chad Rutherford.
2017 World Champion steer wrestler Tyler Pearson had the fastest throw of the night at 4.4 seconds.
Winnemucca's Mitch Pollock had the third-best score of the night, with Spencer Wright taking the top spot with an 87.5 point ride on Big Bend Rodeo's Major Huckleberry.
Reno's own Bailey Kieckbusch took the top spot in breakaway roping and 2016 Reno Rodeo Champion barrel racer Stevi Hillman had the fastest turn around the barrels with a 17.11 second run.
---
Here are the night's top results:
Bareback (score in points):
1. Tilden Hooper, Carthage, TX 87 on a reride
2. Cole Reiner, Kaycee, WY 85.5 on Big Bend Rodeo's Dunny
T3. Chad Rutherford, Hillsboro, TX 84.5 on Big Bend Rodeo's 883
T3. Wyatt Denny, Minden, NV 84.5 on Flying U Rodeo's Cork Top
Steer Wrestling (score in seconds):
1. Tyler Pearson, Louisville, MS 4.4
2. Jule Hazen, Ashland, KS 4.6
3. Tyler Waguespack, Gonzales, LA 5.0
Team Roping (score in seconds):
1. Tanner Green, Cotulla, TX & Clay Futrell, Union Grove, NC 6.0
2. Coy Rahlmann, Ellsinore, MO & Douglas Rich, Herrick, IL 10.0
Saddle Bronc (score in points):
1. Spencer Wright, Milford, UT 87.5 on Big Bend Rodeo's Major Huckleberry
2. Ben Andersen, Rocky Mountain, AB, 85.5 on Flying 5 Rodeo's Blue Feather
3. Mitch Pollock, Winnemucca, NV 82 on Flying 5 Rodeo's Major Spirit
Tie-Down Roping (score in seconds):
1. Trey Young, Dupree, SD 9.0
Women's Breakaway Roping (score in seconds):
1. Bailey Kieckbusch, Reno, NV 2.8
2. Taylor Munsell, Alva, OK 3.2
Barrel Racing (score in seconds):
1. Stevi Hillman, Weatherford, TX 17.11
2. Emily Miller- Beisel, Weatherford, OK 17.19
3. Ali Anton, Healdsburg, CA 17.24
Bull Riding (score in points):
1. Jeff Askey, Athens, TX 79 on Rosser Rodeo's Ghost Water
T2. Dalton Petersen, Elba, ID 76 on Flying U Rodeo's Code Black
T2. Dustin Bouquet, Bourg, LA 76 on Rosser Rodeo's Blackish
*Scores are unofficial until verified by the Rodeo Secretary
For more information and live results every night visit the newsroom. Current PRCA leaderboard can be found here.
About the Reno Rodeo
The Reno Rodeo is a Professional Rodeo Cowboys Association (PRCA) sanctioned sporting event, and one of the top rodeos in North America. Reno Rodeo is a non-profit organization made up of over 500 volunteers. This year's Reno Rodeo is scheduled for June 17-26, 2021. Competition includes bareback, team roping, saddle bronc, tie-down roping, steer wrestling, women's barrel racing, women's breakaway roping and bull riding. Like Reno Rodeo on Facebook and Instagram, follow us on Twitter, or for more information on the Reno Rodeo, visit www.renorodeo.com.