Reno Rodeo Ranks Third in USA Today's "Best Rodeo"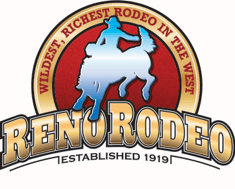 RENO, Nev. – The Reno Rodeo is honored to announce that the "Wildest Richest Rodeo in the West" has been recognized as one of the best rodeos in the nation. The Reno Rodeo was voted third in the USA Today's 10 Best Readers' Choice travel award contest for "Best Rodeo." The nomination was carefully made by an expert panel, after which a public vote determined the final winners.
"We are incredibly honored to receive this recognition," said George Combs, general manager of the Reno Rodeo. "Thank you to all the fans who took time to vote. We'll see you at the Reno Rodeo in just a few short weeks!"
The Reno Rodeo ranked among some of the most renowned rodeos in the nation, including the Pendleton Round-Up in Oregon and the Weekley Brothers Davie Pro Rodeo in Florida.
The 104th annual Reno Rodeo is scheduled for June 15–24, 2023. For more information about the Reno Rodeo visit renorodeo.com.