U.S. Catfish Recipe of the Month: Catfish Quiche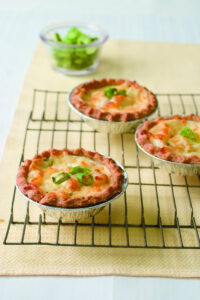 Ingredients
• 2 U.S. Farm-Raised Catfish Fillets, cooked and flaked
• ½ cup mayonnaise
• 2 tablespoons flour
• 2 large eggs, beaten
• ½ cup whole milk
• ¼ teaspoon salt
• ¼ teaspoon freshly ground black pepper
• 1 cup Swiss cheese, grated
• ½ cup green onions, thinly sliced
• 1 (9-inch) unbaked pie crust or 8 mini pie crusts
Instructions
1. PREHEAT oven to 350ºF.
2. In large bowl, BEAT together mayonnaise, flour, eggs, milk, salt and pepper.
3. FOLD in catfish, cheese and onions. Pour into pie crust. Bake in middle of oven for 40 minutes, or until a knife inserted near the center comes out clean.
4. COOL on wire rack 5 minutes before serving. Garnish with thinly sliced green onions if desired.
We would love to hear your thoughts after trying this one! I always check the label to make sure it's U.S. Farm-Raised Catfish and so should you. Enjoy 100% All-American!