U.S. Catfish Recipe of the Month: Pan Seared Cornmeal Crusted Catfish with Blistered Corn and Peach Salsa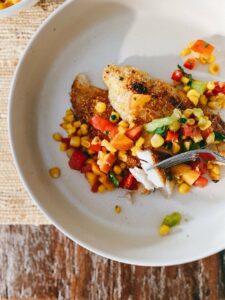 Ingredients
• Catfish
• 4 U.S. Farm-Raised Catfish fillets
• Salt + pepper
• Garlic powder
• 1/4 cup cornmeal
• 2 tablespoons olive oil
Salsa
• 1 ear corn kernels
• 1 red heirloom tomato, diced
• 1 green heirloom tomato, diced
• 1/2 red bell pepper, diced
• 1 peach, diced
• 1 tablespoon chopped cilantro
• 1/2 jalapeño, chopped (optional)
• Juice of 1 lime
• 1 teaspoon salt
To prepare salsa: Heat a dry small saucepan over medium-high heat. Add corn to hot skillet in a single layer, allowing to blister 2-3 minutes before tossing. Cook for 2 more minutes. Transfer to a medium bowl. Add tomatoes, peppers, and peach. Stir in salt, cilantro, and lime. Marinate for up to 20 minutes, tasting and seasoning accordingly. Set aside while preparing catfish.
To prepare catfish: Place cornmeal in a shallow bowl or plate. Place catfish fillets on a cutting board or tray. Brush both sides with olive oil and sprinkle with salt, pepper, and garlic powder. Lightly dust each fillet in cornmeal. Pour remaining olive oil in skillet (you can reuse the saucepan used for corn!) and heat over medium-high heat. Pan sear catfish fillets for 3 minutes on each side.
To serve, transfer catfish to a plate and spoon with salsa.
We would love to hear your thoughts after trying this one! I always check the label to make sure it's U.S. Farm-Raised Catfish and so should you. Enjoy 100% All-American!
Recipe courtesy of U.S. Farm-Raised Catfish partner, Caramelized