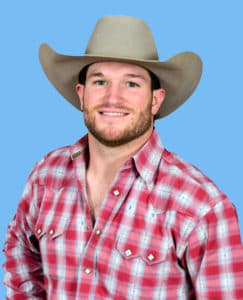 Name and Hometown: Chad Rutherford – Hillsboro, Texas
1-time Wrangler National Finals Rodeo Qualifier
Joined PRCA: 2013
Regular Season Earnings: $37,412
Starting 2020 NFR in 15th place
Major regular season wins:
• Cody (Wyoming), $5,887
Fun Facts about Chad: He waited until he was in college to start competing in rodeo and started so he could get a college scholarship. It worked and after starting in his hometown at Hill College, he transferred to McNeese State University in Lake Charles, Louisiana. He is a three-time qualifier for the College National Finals Rodeo. He and his wife, Katie, have one son, James. He owns Rutherford projects and designs in Itaska, Texas, a company that puts up metal structures. He also does other odd jobs. His willingness to work has paid off physically and mentally. He finished in the top 25 in 2016 and 2017. In 2017, his season was cut short with an injury at the Reno Rodeo that almost cost him his life. He rode his horse, got thrown over the front of it, the horse then came down on top of Chad. He had eight ribs broken in 13 places, broke his collar bone and shoulder blade. And, the broken ribs cause a collapsed lung.