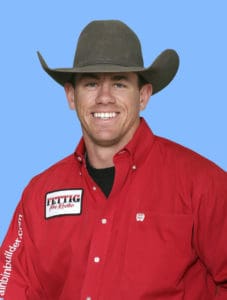 Name and Hometown: Jamie Howlett – Rapid City, South Dakota
1-time Wrangler National Finals Rodeo Qualifier
Joined PRCA: 2015
Regular Season Earnings: $66,583
Starting 2020 NFR in 6th place
Major regular season wins:
• Fort Worth Stock Show & Rodeo (3rd) $12,140
• San Antonio Stock Show Rodeo (5th) $11,250
• Dodge City (Kansas) Roundup Rodeo (2nd) $6,999
Fun Facts about Jamie: He may list Rapid City, South Dakota as his hometown, but when he talks, it doesn't take long to figure out that isn't where he was born. Jamie is the first Australian to compete at the WNFR in the bareback riding since Darren Clarke made it in 2003. His North American Rodeo career started at Western Texas College in Snyder. He was the reserve champion in college in 2015 behind Tim O'Connell. College was where he met another O'Connell, Shane of Rapid City. They started traveling together then and still are. Shane's home and family have been adopted for Jamie. A year ago, he considered calling it quits and heading home to Australia. Now he's grateful he stayed and will be riding at his first WNFR.