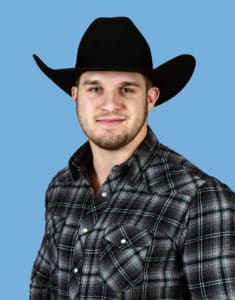 Name and Hometown: Leighton Berry – Weatherford, Texas
1-time Wrangler National Finals Rodeo Qualifier
Joined PRCA: 2018
Regular Season Earnings: $53,386
Starting 2020 NFR in 10th place
Major regular season wins:
• San Antonio Stock Show Rodeo (4th), $13,000
• San Angelo (Texas) Rodeo (2nd), $5,466
Fun Facts about Leighton: While he traveled across the U.S. going to rodeos to help qualify for the 2020 WNFR, Leighton won the bulk of his money in his home state of Texas. He finished in the top 30 of the world standings in 2019, qualifying him for the building rodeo this year. His climb to his first WNFR qualification has come by following a road map to accomplish his goals. He is a second-generation bareback rider, following in the footsteps of his father Kirby Berry who started a construction business with a welder from the back of his rodeo van. This year, Leighton accomplished a goal that many seasoned veterans never reach – he got the W at his hometown rodeo. He and Bill Tutor tied for first place at the Parker County Sheriff's Posse Frontier Days Rodeo in Weatherford, Texas in July. He loves doing anything outdoors from wakeboarding to riding horses and roping, he gives everything he does all he has.