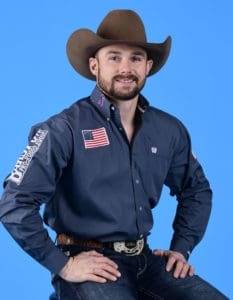 Name and Hometown: Mason Clements – Draper, Utah
3-time Wrangler National Finals Rodeo Qualifier
Joined PRCA: 2015
Regular Season Earnings: $58,501
Starting 2020 NFR in 9th place
Major regular season wins:
• National Western Stock Show Rodeo (Denver, Colorado), $7,417
• San Antonio Stock Show Rodeo, $23,500
• Golden Spike Rodeo (Tremonton, Utah), $4,619
Fun Facts about Mason: A year after joining the PRCA, Mason finished 18th in the world standings. Then he had two consecutive trips to compete at rodeo's championships in Las Vegas. After knee surgery, he fell short again in 2019 finishing in 16th. The determined cowboy started the 2020 season on a roll like he had never experienced before winning Denver and San Antonio. So instead of preparing for the WNFR in 2019, he got engaged. Two days before the rodeo started, he asked his girlfriend Brianna Winn to be his wife. She said yes and now they are planning a wedding for June of 2021. Mason grew up in Las Vegas but all he ever wanted to do was be a cowboy. He moved to Utah, spent time with some of those cowboys, and instead of competing in motocross, started climbing on bucking bulls and horses.