Steven Peebles – Redmond, Ore.
7-time WNFR qualifier
3-time RNCFR qualifier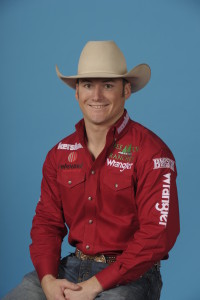 Steven Peebles almost didn't make this year's Wrangler National Finals Rodeo (WNFR), not just because he qualified in 14th place, but because an accident in the arena nearly took his life.
The 2009 Rookie-of-the-Year qualified for his first WNFR that same year and was the last person to do that in the bareback riding. He hasn't missed rodeo's championships yet, but has had a hard time staying healthy.
In 2011, he broke his leg in the Thomas and Mack Center and missed the last five rounds. Last year he missed the last six rounds because of a broken back and when it was all said and done he was still in fifth place in the world standings.
This year, he accomplished a long-time goal when he won the Reno (Nev.) Rodeo in June. He was full of momentum for the Cowboy Christmas run when tragedy struck. He was in Livingston, Mont., made and 86-point ride and came off the horse just as the whistle blew.
Steven landed hard on his back and had a hard time catching his air. He had severe pain and if it wasn't for the wisdom of his traveling partner Brian Bain, he wouldn't be at this year's WNFR. Bain ignored Peebles wishes to keep heading to the next rodeo and took him to the hospital in Livingston where they discovered he had broken some ribs and one of them punctured an artery. His abdominal cavity was quickly filling up with blood.
A trip to a bigger hospital in Bozeman, lots of prayer and quick-thinking medical staff saved his life. He returned to action at the Omak (Wash.) Stampede and finished second. Washington saw him win two more rodeos at Ellensburg and Walla Walla. He finished the season with a win at Omaha, Neb., to make it to the WNFR.
With what Steven has been through, he will never take a ride on a bucking horse for granted. He's rested and healthy and more excited than ever to get on 10 head in Vegas.