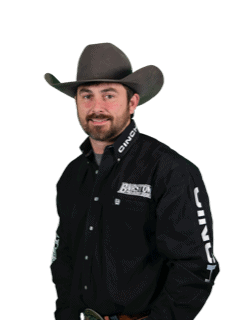 Winn Ratliff moved into the top 15 after Ty Breuer was unable to compete after injuries.
Name and Hometown: Winn Ratliff – Leesville, Louisiana
5-time Wrangler National Finals Rodeo Qualifier
Joined PRCA: 2010
Regular Season Earnings: $45,512
Starting 2020 NFR in 15th place
Major regular season wins:
• San Antonio Stock Show Rodeo (during bracket and wildcard), $10,000
Fun Facts about Winn: He has a bachelor's degree in education and plans on putting that to use teaching and coaching baseball in the future. He loves children and always wants to be an encourager and positive influence. Winn and his wife Brittany have two young children and they are his first priority. He rode bulls all through college and a little bit early in his professional career before focusing on bareback riding. He was the all-around champion at the College National Finals Rodeo in 2011 and is a recipient of the "Nothin But Try" scholarship that honors PRCA member Shane Drury.