Winn Ratliff – Leesville, La.
4-time WNFR qualifier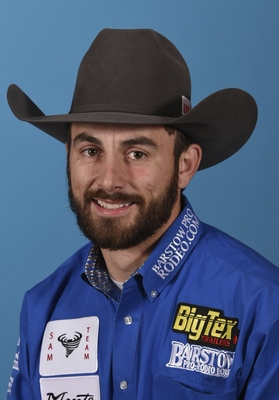 Winn Ratliff didn't start his rodeo career riding bucking horses — he started riding bulls.
After graduating from high school he used a rodeo scholarship to attend McNeese State University in Lake Charles, La., where his coach, Justin Browning, suggested he expand his horizons.
It wasn't pretty in the beginning, but Winn soon got a rhythm and timing that has gotten him to four Wrangler National Finals Rodeos (WNFR) in the bareback riding. He enters this year's competition with regular-season earnings of $96,295 putting him in sixth place.
Winn is just coming off of a big win at the All-American ProRodeo Finals at Waco, Texas, where he earned $11,384. That doesn't count for 2016, but it counts in his checking account, for the 2017 standings and most importantly gives him momentum for the NFR.
His final ride at that rodeo aboard Pickett Rodeo's Top Flight was worth 90 points and gave him an opportunity to share a tradition with his daughter. As he was advancing through the rodeo ranks, when he got an outstanding score, his mom would take him to the carnival for a candy apple. After his 90 in Waco, he and his daughter got to share that candy apple.
Winn graduated from McNeese with a degree in education. He uses that to pursue his second passion, baseball. Time away from the rodeo arena gives him time to coach his siblings in baseball. He also raises Holland Lop show rabbits for his little sister.
Rodeo has become much more than a career choice for Winn, whose middle name is First. It is a platform to share his faith and for 10-nights in Vegas, every time he nods his head, the song, God's Not Dead, will be playing in the background.