Joe Frost – Randlett, Utah ($119,561)
5-time WNFR qualifier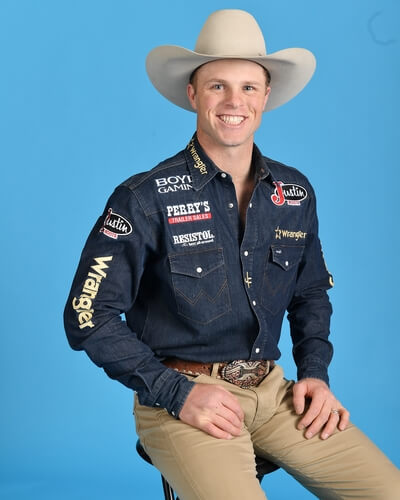 Riding bulls is more than just a passion for Joe Frost, it's a way to make a living and he is investing every extra penny in his future.
Joe is headed to his fifth Wrangler National Finals Rodeo with $96,163 in regular season earnings. He also topped $1 million in career earnings this year, has qualified for his fifth consecutive Wrangler National Finals Rodeo and bought somewhere close to 60 chickens.
Yes, he and his wife Kylee have chickens, a few ducks and also, about 150 cows. They celebrated their one-year anniversary in August, and along with raising their own food are also storing it by freezing and canning.
Joe joined the PRCA in 2013 and one year later won the bull riding at the College National Finals Rodeo in June before he qualified for his first NFR in December. That year, he finished as reserve champion behind Sage Kimzey.
In 2015 he was sixth and then was fourth in 2016. Last year, he had his best NFR to date, riding six bulls and placing on everyone that he rode. He left Las Vegas with $169,923 and finished the season third in the world standings with $304,566.
Joe's 2018 regular season got off to a slow start. He was outside the top 15 the beginning of the year. Prior to "Cowboy Christmas" over the Fourth-of-July holiday, he wasn't even in the top 20. Then he earned over $20,000 at the Ponoka (Alberta) Stampede and also the championship at the Home of Champions Rodeo in Red Lodge, Montana. He moved up to 9th with $61,698.
Joe added enough money to his regular season earnings to spend the first part of December in Las Vegas. He will start the competition in 12th place with $96,163 in regular season earnings.
Probably the question he gets asked most is, "How are you related to Lane Frost?" They are cousins and while Lane left this earth before Joe was born, he still has had a big influence in his bull riding. And, when Joe won Round 7 at last year's NFR, Lane's parents, Clyde and Elsie were on stage with him at the buckle presentation.
Joe has won the championship in Junior High, High School and College. Now all that is left is a gold buckle for being the world's best. He is preparing for the NFR by getting on practice bulls and working out. He has big goals and an even bigger support system that are very excited to see him ride again in the Thomas and Mack Center.