Jordan Hansen – Ponoka, Alberta ($114,747)
2-time WNFR qualifier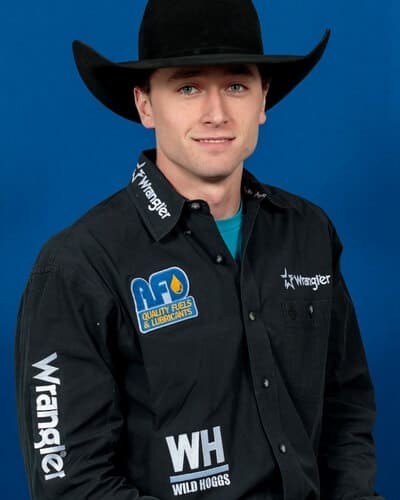 Jordan Hansen's 2018 season wasn't what he and his fans had hoped for. He was the first Canadian in 16 years to compete at the Wrangler National Finals Rodeo in 2017.
After a winning round eight and finishing eight in the world standings Canada was very hopeful that Jordan would be back in the Thomas and Mack arena in 2018 and do even better at the NFR.
Instead, he was plagued with injuries and finished 35th in the world standings. Those injuries, including a previously broken back, were causing chronic problems that continued to affect him into the 2019 season.
He was also competing at PBR Canada events and it was all taking it's toll. So, he did what cowboys do, took some time away from the arena, took care of himself, spent time horseback and waited for the day that he felt like getting back on a bull.
By mid-July, Jordan had moved into the top 30 in the PRCA world standings. Then he won the Mountain Valley Stampede in Heber City, Utah and added $12,956 to his earnings. He was inside the top 15 and kept winning. He got the W at the Washington State Fair in Puyallup, adding over $18,000 to his earnings. He will start his second NFR in 11th place with $114,747 in earnings.
Jordan also qualified for the Canadian Finals Rodeo this year for the seventh time. He won their championship in 2016. The talented bull rider grew up with rodeo in the background. He traveled with his mother, Adel, to rodeos across Canada so she could compete in the barrel racing. She had also ridden steers in her youth.
While Jordan is committed to riding bulls and doing well in the arena, he made an even bigger commitment last May when he proposed to his long-time girlfriend Sara West. They had spent the day branding calves and with all of her family around he got down on one knee and asked. She said yes and he will have to take a break from bull riding next May as they exchange their vows on the 22nd.
Sara is preparing for their wedding while Jordan is preparing for the NFR. When they get to Las Vegas all of the focus will be in the Thomas and Mack Center where the Canadian flags will be waving during the bull riding. Jordan is hoping to give them a lot of reason to wave and it could be a really good place to start his and Sara's honeymoon fund.