Bradley Harter – Loranger, La. ($99,351)
11-time WNFR qualifier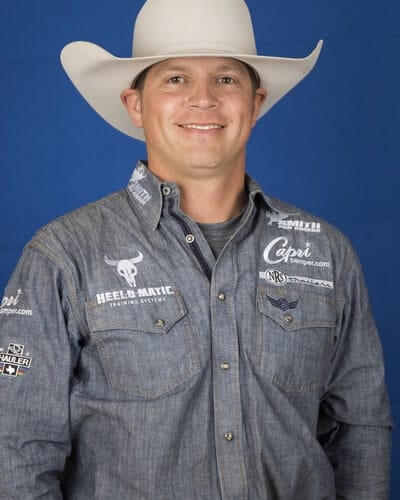 Remarkable would be a very good way to describe Bradley Harter's saddle bronc riding career. After a four-year absence, the smiling cowboy is headed back to his 11th Wrangler National Finals Rodeo.
That means that he will ride in his 101st grand entry and that he has already been on 100 bucking horses in the Thomas and Mack Center. Bradley was born and raised in Texas. He was the pride of Parker County and no one was surprised when he decided to further his education nearby at Stephenville.
He competed for Tarleton State University's rodeo team and qualified for the College National Finals rodeo all four years of his eligibility. In 2003, he finished as the reserve champion. Along the way, he got his bachelor's degree in marketing with an emphasis on business, a degree he uses every day. Last year, he was inducted into the Tarleton State University Rodeo Hall of Fame.
Bradley started competing in the PRCA in 2002 when he was still in college. His first NFR qualification came in 2005. He was back in 2006 where he tied for the win in round nine. Ironically, that is the only round win he has gotten out of the Thomas and Mack Center.
"I've had some of the greatest rides of my career there," he said. "I'd think I would get to make the victory lap, be sitting in the alley horseback, then somebody else would get a better score and I'd give up my seat."
This year, Bradley is starting the competition in 12th place with $99,351 earned during the regular season. He got off to a good start with a win at Rapid City, South Dakota, last February. He kept adding to his winnings and sealed the deal the last week of the season as the co-champion at the American Royal in Kansas City, Kansas.
Bradley and his wife Kirby now call Louisiana home. They have two boys that will be excited to watch their daddy ride and get out of school too. Houston is 10 and Branson is five. They will also offer some extra incentive for him in the arena.
Last year, Bradley helped his traveling partner, Joey Sonnier, get to his first NFR. This year, Joey finished outside the top 15. They have become great friends and the only thing sweeter than being at the NFR would be for them to make it the same year and compete alongside each other.
Joey considered it a big blessing just to compete at rodeo's championships, a sentiment shared by Harter. It takes him a little bit longer to get ready to ride a bucking horse now than it did when he first came to Vegas in 2005, but his heart and desire have remained the same through all of his journey.