Clay Elliott – Nanton, Alberta ($104,176)
3-time WNFR qualifier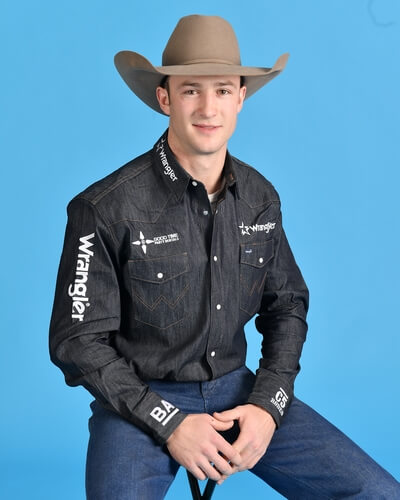 When Clay Elliott nods his head for the first time at this year's Wrangler National Finals Rodeo, it will be with a newfound confidence.
Clay just won his second Canadian Professional Rodeo Association championship. He is entering his third NFR in seventh place with $104,176 in regular season earnings. That is the best regular season he has had since joining the RCA in 2014.
After learning the tricks of the trade from some of the best in Canada – Winston Bruce and Rod Hay – Clay moved to Goodwell, Oklahoma to compete in college rodeos for Panhandle State University. He won the National Intercollegiate Rodeo Association championship in 2015 and was competing in the PRCA. He narrowly missed the NFR that year finishing in 17th place.
The next year he won his first title in Canada, competed at his first NFR and finished the year 11th in the world. Last year, he started the NFR in 11th place and finished in 14th.
That certainly wasn't good enough for Clay who is always looking for ways to improve his performance, physically and mentally. That quest led to big wins at Rodeo Austin last March and then the K-Days Rodeo in Edmonton, Alberta in July.
Not one to be satisfied with previous performances when the gold buckle is at stake, Clay has been looking for ways to improve. He has been taking a calmer, more focused approach to his riding.
And, he will be working on his physical fitness and mental toughness before the NFR as well. He is traveling to Twin Falls, Idaho, to work out with former NFR bareback rider Kelly Wardell in his mixed martial arts gym. Kelly is also the assistant rodeo coach at the College of Southern Idaho.
Clay's spent his childhood going to rodeos with his father, Vern, who was a bull rider. His whole family has been involved in rodeo and ranching. When his mother, Mona, passed away in 2011, they started Mona's Cowboy Inspiration Fund to help ranching and rodeo families in need.
Presented by: