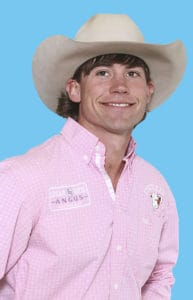 Name and Hometown: Cole Elshere – Faith, South Dakota
4-time Wrangler National Finals Rodeo Qualifier
Joined PRCA: 2010
Regular Season Earnings: $54,351
Starting 2020 NFR in 6th place
Major regular season wins:
• The American Rodeo (Arlington, Texas, 3rd), $10,000
• Dodge City (Kansas) Roundup (2nd), $3,991
Fun Facts about Cole: Rodeo is truly a hobby for Cole. He is part of a family ranching operation that includes 800 cows. He works his rodeo schedule around calving and always has plenty to do, and the enterprising advocate started selling beef on his own when local grocery stores were running low during the pandemic. He estimates that he delivered Elshere Ranch beef to 40 families and is feeding out cattle and making their quality home-raised products available to others. Cole qualified for the WNFR 3 consecutive times from 2012 – 14. Since then he finished close, starred in a movie where he portrayed Casey Tibbs, and gotten married. This year he had another consideration to make to his rodeo schedule in the final two weeks. His wife Kyndra was expecting their first child. Everley Reign was born on September 15 and will get to travel to Texas for her daddy to compete at Globe Life Field.