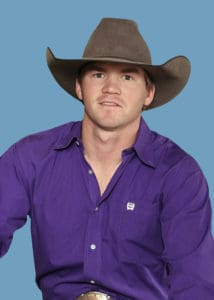 Name and Hometown: Shorty Garrett – Eagle Butte, South Dakota
1-time Wrangler National Finals Rodeo Qualifier
Joined PRCA: 2014
Regular season Earnings: $90,005
Starting 2020 NFR in 4th place
Major regular season wins:
• Rodeo Rapid City (South Dakota) $4,991
• San Antonio Stock Show Rodeo (3rd) $17,167
• Home on the Range Champions Ride (Sentinel Butte, South Dakota, 3rd), $4,534
• Range Days Rodeo Xtreme Broncs (Rapid City, South Dakota, 3rd), $11,731
Fun Facts about Shorty: He won the championship at this year's RAM National Circuit Finals and while the money didn't count in the world standings, it helped his bottom line. He competes in a purple shirt in honor of Casey Tibbs who was his great uncle. His family legacy includes world champion bareback riding Mark and Marvin Garrett who are also his uncles. He traveled to Las Vegas last year to cheer for his traveling partners, Brody Cress and Isaac Diaz. He says they have been instrumental in his first WNFR qualification and he is excited to be competing at Globe Life Field with Brody and Isaac.