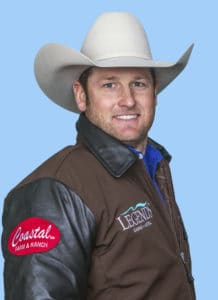 Name and Hometown: Blake Knowles – Heppner, Oregon
5-time Wrangler National Finals Rodeo Qualifier
Joined PRCA: 2002
Regular Season Earnings: $42,483
Starting 2020 NFR in 11th place
Major regular season wins:
• San Antonio Stock Show Rodeo (bracket and semifinals), $8,500
• Guymon (Oklahoma) Pioneer Days Rodeo, $5,130
Fun Facts about Blake: He and his wife, Whitney, have a daughter Lydia that is five years old. Just one day after the Fourth of July, they welcomed a son, Trell, to the family. After a quick trip home, Blake claimed the victory at the Big Fork, Montana rodeo the day after Trell was born. He loves being outdoors and if he didn't live in Oregon, might pick Montana as his home. He went to college in Montana. His father, Butch Knowles, is a rodeo broadcaster who competed at the WNFR in the saddle bronc riding. He has trained steer wrestling horses that he has been successful on and has a young one coming up that was raised on the family ranch.