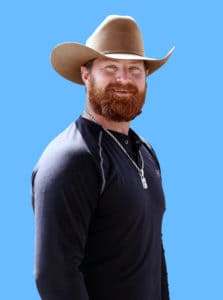 Name and Hometown: Clayton Hass – Weatherford, Texas
4-time Wrangler National Finals Rodeo Qualifier
Joined PRCA: 2005
Regular Season Earnings: $41,840
Starting 2020 NFR in 12th place
Major regular season wins:
• San Antonio Stock Show Rodeo (brackets and semifinals), $7,875
Fun Facts about Clayton: It's been four years since Clayton has competed at the WNFR, but not since he's been in the arena. He spends a lot of time on the offside of the steer wrestlers as a hazer keeping cattle where they are supposed to be. He first qualified in 2014 and finished the year in the eighth. The next year he was fifth and then in 2016 was third in the world standings. The ranch-raised cowboy is also a talented roper and horse trainer. He and his wife, Alex, have two daughters, Addy and Izzy, and a son Mac, and he says that being a father surpasses anything that he has ever experienced in his career.