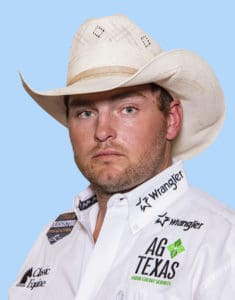 Name and Hometown: Jace Melvin – Fort Pierre, South Dakota
1-time Wrangler National Finals Rodeo Qualifier
Joined PRCA: 2014
Regular Season Earnings: $46,225
Starting 2020 NFR in 7th place
Major regular season wins:
• San Antonio Stock Show Rodeo (3rd), $12,500
Fun Facts about Jace: He always wanted to be a cowboy and his love of the game started when he followed his two older sisters, Jessica and Jenny around to the rodeos. He had his own rigging bag that he'd drag behind the chutes just waiting for the day he could compete. As he grew, he switched ends of the arena and started roping and steer wrestling. He helped the Tarleton State (Stephenville, Texas) Cowboys win the men's national team title in the National Intercollegiate Rodeo Association in 2015. Jace competed for them in the steer wrestling and tie-down roping at the College National Finals Rodeo that year. His sisters are both married to PRCA competitors and are Jace is the proud uncle of the next generation of rodeo contestants.