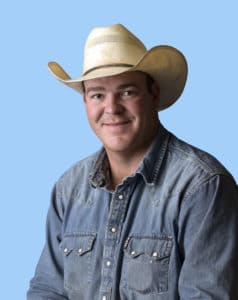 Name and Hometown: Jacob Edler, State Center, Iowa
1-time Wrangler National Finals Rodeo Qualifier
Joined PRCA: 2013
Regular Season Earnings: $45,607
Starting 2020 NFR in 9th place
Major regular season wins:
• Fort Worth Stock Show & Rodeo (rounds and semifinals), $4,520
• San Antonio Stock Show Rodeo (10th) $8,000
Fun Facts about Jacob: He finished as the reserve champion steer wrestler at the 2016 College National Finals Rodeo behind his teammate, J.D. Struxness. They both represented Northwestern Oklahoma State University where WNFR qualifier Stockton Graves is the coach. And, when they weren't competing they were hazing for each other. Jacob comes from a farming and ranching background in central Iowa. He is a member of R-Calf USA and recently made an agreement to represent the non-profit that is fighting for the liberty of American cattlemen. He has a younger brother that just graduated from high school and competes in rodeo and his sister is an agriculture education and family and consumer science teacher.