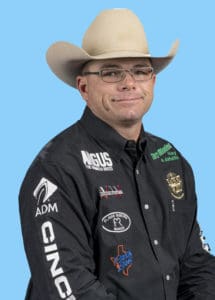 Name and Hometown: Matt Reeves – Cross Plains, Texas
8-time Wrangler National Finals Rodeo Qualifier
Joined PRCA: 2002
Regular Season Earnings: $86,944
Starting 2020 NFR in 1st place
Major regular season wins:
• Fort Worth Stock Show & Rodeo (3rd) $12,640
• San Angelo (Texas) Rodeo, $9,755
• The American Rodeo (Arlington, Texas), $50,000 counted towards world standings
Fun Facts about Matt: In 2016 Matt had qualified for his sixth Wrangler National Finals Rodeo and left Las Vegas as the reserve world champion. Then he missed two years. Last year he was back competing in the Thomas and Mack Arena and won his first average title for having the fastest total time on 10 runs. He kept that momentum going and won The American Rodeo for the second time in his career. Matt has a lot of juggling to do in his day-to-day life. He is the steer wrestling director on the PRCA Board and has a cattle ranch. He and his wife Savanah have two young boys, Carson and Hudson. Savanah is a registered nurse and it's not unusual for Matt to be taking care of one or both of his boys. He has even taken them to rodeos and played the role of the single dad on the road while Savanah is home working and taking care of the family's menagerie of animals.