Aaron Tsinigine – Tuba City, Ariz. ($84,044)
3-time WNFR Qualifier
2015 World Champion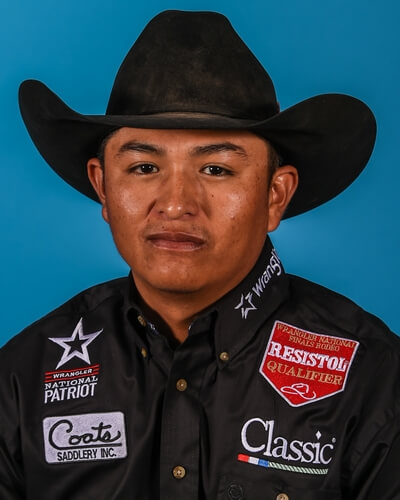 After Aaron Tsinigine was crowned the 2015 world champion team roper his life changed and it wasn't all for the better.
Wearing a new gold buckle should have given him confidence and momentum going into the next season, but it almost had the opposite effect. He came back during the 2017 season expecting to do well, but instead he told Chelsea Shaffer on the Team Roping Journal's podcast The Score, "I roped terrible." He finished that year in 18th place.
The next year wasn't much different, except for the retirement of his great horse "Smudge" that helped him win that gold buckle. He would periodically take his buckle off to get it cleaned. Every time he did that it would look pretty and new and he enjoyed that, so one day he decided to just leave it off. That helped change his attitude, remembering where he came from and how his career started.
Getting back to his roots, having a different horse that was ready for the rodeo road and being hungry got Aaron off to a good start this year. He won the National Western Stock Show Rodeo with Kyle Lockett. They each won $7,125. Things slowed down after that.
Then when summer rolled around, Aaron started roping with Trey Yates. They got a huge win at the Reno Rodeo. Then they won the Cody (Wyoming) Stampede and placed at other rodeos over the Fourth of July earning more than $20,000. Aaron was ninth in the world standings.
He continued to add to his earnings and remained in that place. He enters his third NFR with $84,044 where he will be roping with Trey.
Aaron, along with fellow team ropers Derek Begay and Erich Rogers put together a roping school to give back to their community and encourage young Native American kids. When they started making plans, Aaron said he never had the money for a school so they contacted the 7G Foundation that supports Native American Youth and got some financial support. The school was open to Native American youth 17 years old and under and for enrollment, the participants had to write and essay about what they wanted to be when they grew up and how success would help themselves, their family and their tribe.
It's all getting back to Aaron's roots and that has helped him get back to Las Vegas for the NFR again.
Presented by: