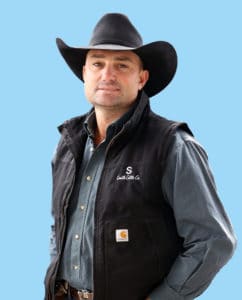 Name and Hometown: Colby Lovell – Madisonville, Texas
7-time Wrangler National Finals Rodeo Qualifier
Joined PRCA: 2006
Starting 2020 NFR in 4th place
Major regular season wins:
• The American (Arlington, Texas, 2nd), $25,000
•Spanish Fork (Utah) Fiesta Days Rodeo (4th), $5,110
•Sikeston (Missouri) Jaycee Bootheel Rodeo, $5,097
Fun Facts about Colby: He took three years away from pro rodeos, spent time working on a ranch that was started by his grandfather, training horses, and hunting hogs. In the midst of it all, he became friends with Cody Nessmith, a young man from Louisiana that was fighting Ewings Sarcoma cancer. Colby didn't compete at last year's WNFR but was at the South Point at the World Series Team Roping. And, because his friend was roping while going through chemotherapy, Colby took Cody a horse and made sure everything was ready so Cody could reach a lifelong goal of roping in Vegas. Sadly, Cody's battle took a turn for the worse and cancer took him in July. Now Colby has a new patch on his shirt for Cody. Several other team ropers will also be roping for Cody this year. Cody spent a lot of time with Colby on his ranch at Madisonville, roping and hunting. He became a member of the Lovell family that includes his wife Kassidy, their son, Levi, and daughter, Jewel.