Kyle Lockett – Visalia, Calif. ($98,730)
8-time WNFR qualifier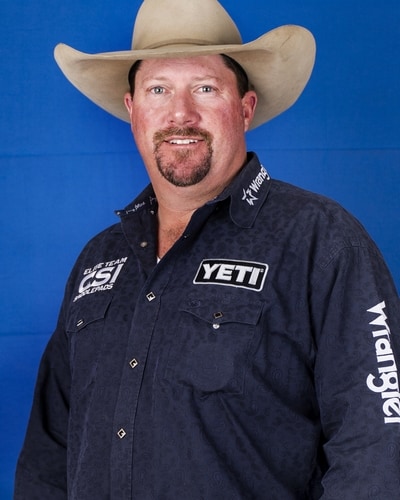 When Kyle Lockett rides into the Thomas and Mack Center for the 2019 Wrangler National Finals Rodeo, he will be the oldest team roping heeler there at 42.
But that's only part of what makes his story so remarkable. This is Kyle's eighth qualification for rodeo's championship, but the first in 15 years. He joined the PRCA in 1997, won the rookie title in the heeling and qualified for his first NFR. He was there again in 1998.
He was there again in the at the beginning of the next century and in 2002 he and partner Wade Wheatley finished as reserve world champions. They had roped together growing up and Kyle finished his rodeo career with Wade in 2005, or so he though.
Kyle's future wife, Leigh was pregnant with the couples first child. Kyle has always like children and didn't want to be away from them for months at a time to rodeo. Leigh was working more than full-time as a labor and delivery nurse. Their daughter Shayla was born, two years later, another daughter, Georgia followed. Then came boys, Sutton and Blevins.
With Leigh working, Kyle became Mr. Mom. He had always started colts, trained horses and worked on ranches in the area. That didn't change, he just did it while taking care of his growing family. And, he still competed at rodeos in the California circuit.
Now the children are older, ranging in age from 8 – 13. So last winter when Aaron Tsinigine, the 2015 world champion header needed a partner he called Kyle. They won San Angelo qualifying Kyle for Houston. Aaron was already entered with Walt Woodard. Kyle roped with Ty Blasingame and they won Rodeo Houston the first time they ever roped together.
By the end of March, Kyle had won enough money to get him back to Las Vegas to compete again. While he didn't go hard, he continued to add to his earnings and will start this year's NFR in sixth place with $98,730.
No one is any happier about a return to Vegas than Leigh. Since his last qualification, Kyle has changed a lot of diapers, fixed bottles, fed children, hauled their ponies and made his family his focus. For 10 nights in Vegas they will all be focused on him and having a very proud family moment.