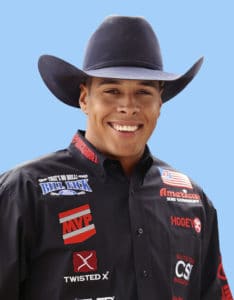 Name and Hometown: Shad Mayfield – Clovis, New Mexico
2-time Wrangler National Finals Rodeo Qualifier
Joined PRCA: 2019
Regular Season Earnings: $145,138
Starting 2020 NFR in 1st place
Major regular season wins:
• Roping Fiesta (San Angelo, Texas, October 2019), $9,557
• Sandhills Stock Show & Rodeo (Odessa, Texas), $4,398
• National Western Stock Show Rodeo (Denver, Colorado, 2nd), $10,208
• Fort Worth Stock Show & Rodeo (brackets and semifinals), $7,080
• San Angelo (Texas) Rodeo (1st round win) $4,260
• San Angelo Cinch Chute-Out Rodeo, $7,500
• San Antonio Stock Show Rodeo, $24,500
• La Fiesta De Los Vaqueros (Tucson, Arizona, 3rd) $4,829
• The American Rodeo (Arlington, Texas) $50,000 counts towards world standings
• Rodeo Houston (Bracket 3), $5,000
Fun Facts about Shad: A year ago, Shad was the National High School Rodeo Association champion, then won enough money to qualify for his first Wrangler NFR after just turning 19-years-old. He is now 20 and while he's not in college he is a student of the game. He was disappointed in his performance in the Thomas and Mack Arena last December after having placed in just two of the 10 rounds. He started studying, every run, every piece of his horsemanship and looked for the tiniest details that would make a difference. He put his practice into action the first part of the year amassing a huge lead going into this year's WNFR. His mom, JoEllen is a schoolteacher. Her love of learning might have influenced Shad's season. His father Sylvester qualified for the WNFR twice. He has an older sister Shelby that he won the ribbon roping with at the National Junior High School Finals Rodeo.