WNFR Preview Otto Readies for First WNFR, Lockhart for 15th Consecutive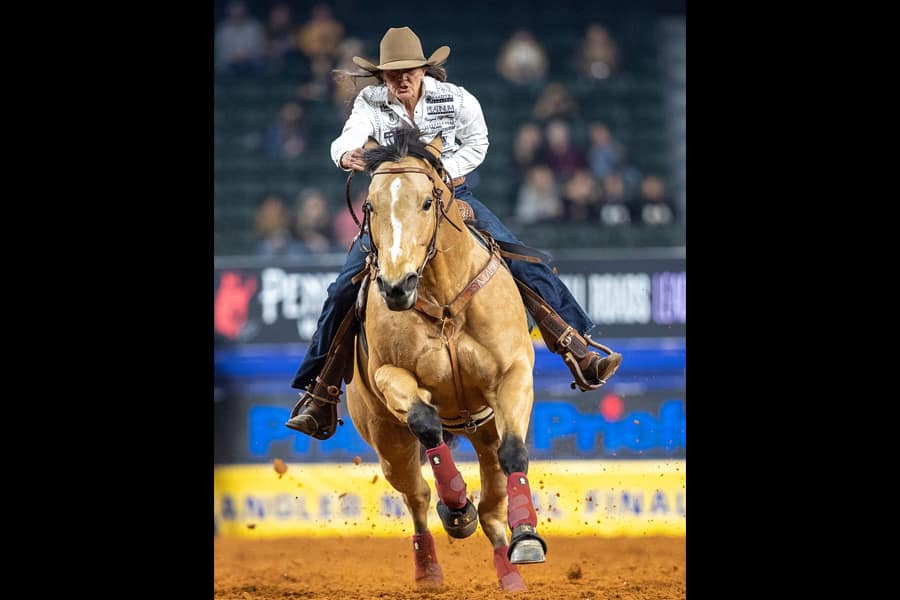 The first things Molly Otto had to learn about the 2021 ProRodeo season were the differences between the futurity life and the rodeo life.
"You show up for a weekend, and you make two runs on good ground in a super controlled environment," Otto of Grand Forks, North Dakota, said of futurities. "There are a lot of things out of your control in rodeo. You don't have control of the weather or the ground conditions, and you're making multiple runs in a week with different setups and different kinds of ground.
"They are really polar opposite of one another."
In 2021, she found her way on the rodeo trail, though, and she's heading to the Wrangler National Finals Rodeo for the first time in her career.
She's excelled at both futurity and rodeo, and she's achieved some high markings on the same horse each of the last two years, Teasin Dat Guy, a 5-year-old palomino mare out of Teasin Jetolina by Frenchman's Guy that Otto calls Chewy. They were the WPRA world champions at the 1D futurity level in 2020, and Chewy won the WPRA/Badlands Circuit Rising Star of the Year award.
"I'm not really sure what to think, but obviously I'm excited," Otto said. "I feel relieved after going all year that it actually happened. It doesn't quite feel super real yet, but I think it will change when we're getting ready to head that way."
She's been heading in that direction all season, picking up victories along the way. In all, she finished the regular season with 12 outright victories, from Sikeston, Missouri, to Moses Lake, Washington, and several places in between.
There was no set plan or design to how she traveled, which was by herself much of the time. She and Chewy's owner, Katie Lindahl, figured out a path, and they made plans for her rodeo entries then. She was able to see several parts of the country for the first time, and it's all because of a young horse that has provided so much.
"At the beginning of the year, I just thought of going to some rodeos and see how it goes," Otto said. "If my horse was winning enough to keep going down the road, I'd keep entering. Of course, it seems like she picked up checks every week. About July, I felt like I might actually have a shot at this, so I may as well keep going."
Not all the season was peaches and cream, though. Covering thousands of miles by herself became a weight on her shoulders, and her family was back home in northeastern North Dakota. Besides the long and winding roads, rodeo is also a roller coaster of emotions and outcomes.
"I got to a point where I felt frustrated when things weren't going well, and I was frustrated when she was not getting checks," she said. "When she goes out and makes good runs, I feel like she should get a check. Then all of the sudden, she would win a rodeo. That was really exciting for me, and it made it feel like the perfect timing to keep me going."
An abscess hit at a bad time, too, and Otto ventured home for most of September to keep her young yellow speedster in the best health possible.
"Those are things you have to deal with on the road," Otto said. "That was disappointing. I felt defeated. I just kept moving down (the world standings) every week, because I wasn't going to rodeos."
Still, her phenomenal season stayed with her, and she finished the campaign with $64,173, good enough for the 15th and final spot to allow her and Chewy a chance to run inside the Thomas & Mack Center.
"I think it's a good setup for both my horses," she said. "It's a similar style of arena to what we run up north here. I feel really good about it."
She should. She'll also get a chance to run her prized mount against the top ladies and the top horses in ProRodeo during 10 nights in the Nevada desert. She'll chase the world standings leader, three-time reigning world champion Hailey Kinsel, and she'll get the title-on-the-line feel of the sport's grand finale.
"All those girls are amazing," Otto said. "I'm really happy to be there and be able to compete with them."
One is Lisa Lockhart, a two-time NFR average champion (2014-16) who is riding inside the storied yellow chutes for the 15th straight year. She's a staple in Las Vegas – or at the championship in Arlington, Texas, in 2020 – and she's proven to be a contender for the world title.
"Where it's been consecutive years, it just became a mindset for me to make the NFR," said Lockhart of Oelrichs, South Dakota. "We all have that goal. That's what you want to do, and that's where you want to be. That's part of the driving force this summer, so you may have to work a little harder this summer. It's what I've had the privilege to do."
It was a different year than most for the veteran. She fell behind early, then spent much of the late spring and summer playing catch-up. She was on the bubble until the end of the regular season, but she still finished with $65,044 to qualify for the NFR in 14th position.
"Hard-fought well describes my year," she said. "We did not have a good winter. I only went to a few places. I was short on horsepower, especially with Rosa at the breeding center, so things didn't fall into place.
"I got a really late start. Even after the Fourth of July, I had so very little won. I just figured it is what it is, so I'll just stay home and ride my young horses."
Because of the multitude of rodeos in July and August, she had already entered several events. With all that was on the table, Lockhart opted to stay on the road with Rosa – otherwise known as Rosas Cantina CC, an 11-year-old buckskin out of Dash Ta Vanilla by Corona Cartel – and Cutter, registered as Prime Diamond, a 10-year-old black gelding out of Hugos Diamond by Prime Talent.
"Lo and behold, Cheyenne (Wyoming) and Ogden (Utah) were game changers for me," Lockhart said. "I was already entered. I'd almost thought about not going, but I had to go to Cheyenne. I love Cheyenne, and Rosa loves Ogden, so, I thought, 'Heck, I'll just go.' "
She won $7,107 at the Daddy of 'em All and $7,309 in Ogden, and she was back on track. She was still a long way out, but it lit a fire in her that pushed her through the challenges that she faced. Anything is possible at that stage of the game, but it also seemed very unrealistic that she would keep her streak going.
"It was quite a roller coaster," she said. "The carrot was always dangling. It felt like we'd gain a little, then we'd go weeks without winning anything, knowing in the back of our minds that we just had to win, win, win to ever think we could accomplish it. It was a come-from-behind struggle without a doubt."
It was also well-deserved, and she'll be back on the best-paying playground in ProRodeo with 14 other top cowgirls.
"Is it about records? No," Lockhart said. "I just kept thinking to myself, 'What am I going to do this fall if I don't make it?' I tried to vision sitting on my couch watching and how much that was going to drive me crazy, so I just told myself, 'Suck it up and go out and try to get there.' "
Mission accomplished.
Courtesy of WPRA