Carley Richardson – Pampa, Texas
2-time WNFR qualifier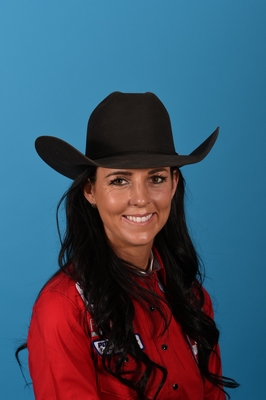 The panhandle of Texas has been a great place for Carley Richardson to grow up and to pursue her passion of barrel racing.
Known for wide-open spaces, the area around Pampa is centered around agriculture and that's how she grew up – ranching. That put her on the back of a horse at a very early age. Her dad, Jim, was a team roper and started taking Carley and her three older sisters to junior rodeos as soon as they were old enough to compete.
Carley's first rodeo experiences came aboard a pony named Oakie. That developed a love of horsemanship that she still pursues today. She bought her main horse Doda Flit, "Radio" at a sale in Oklahoma City as a two-year-old. Her dad rode him at the ranch and worked with him a lot before they ever showed him the barrel pattern.
Radio took to those three barrels like that was what he was born to do. Carley won the International Youth Finals Rodeo in Shawnee, Okla., when he was just five years old. She was 17. Now Radio is 12 years old and has been part of a team that got Carley to her second NFR.
The other horse in her trailer, and that she rode at last year's NFR is Fashionable Boy, a big strong 15-year-old gelding.
Last year Carley finished the season in 13th place. This year she enters the Wrangler National Finals Rodeo in that position with hopes of moving up. She has regular season earnings of $80,875. Whether she is riding Radio or Boy, this cowgirl will do everything she can to capitalize on her success.