Fallon Taylor – Collinsville, Texas
2014 World Champion
7-time WNFR qualifier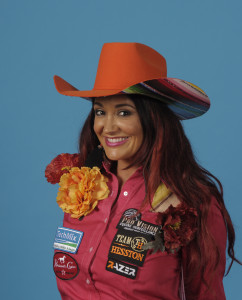 In 2012, Fallon Taylor and her awesome mare Baby Flo missed a Wrangler National Finals Rodeo qualification by just one spot.
They came back in 2013 and entered the race for the world title in fifth place, definitely in reach. Then a disappointing WNFR kept Fallon from that life-long dream. They finished the season in 13th place.
Ever the determined cowgirl, Fallon approached 2014 with the determination and perseverance that got her through a broken neck in 2009 where she had to learn to walk again. It was her year and she left Las Vegas with the world championship in tow.
The 2014 WNFR also marked a change in equipment when she started wearing a helmet in the third round. That was a move that gave her a real confidence boost.
"I didn't realize until I put the helmet on that I was insecure about my injury," she said. "Now I wear a brain bucket and protect my noggin. I never get on a horse without my helmet."
Fallon's fans will be watching her and her great horse Flos Heiress aka Baby Flo try to win back-to-back titles. Last year, they finished second in the average behind Lisa Lockhart and won $144,970 in Las Vegas. A lot of things will need to happen for them to get another world title, but it is definitely within the realm of possibilities. It has been exactly 10 years since the WPRA has had a back-to-back world champion. Kelly Kaminski and her great horse Rockem Sockem Go got gold buckles in 2004 and 2005.
Interacting with fans is second nature to Fallon who takes her responsibility as a role model very seriously. She has over 200,000 followers on social media and those numbers are growing daily.