Hailey Kinsel – Cotulla, Texas ($192,834)
2-time WNFR qualifier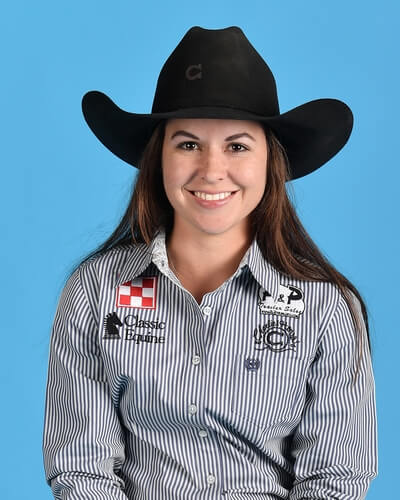 When Hailey Kinsel and her powerhouse mount DM Sissy Hayday entered the Thomas and Mack Center for the first time last year, fans had big expectations for the dynamic duo.
Those expectations were met and then some. They finished third in the first two rounds, then Hailey and Sister set an arena record with a 13.11-second run in the third round. She was out of the money two of the 10 rounds, and that was because of a penalty for knocking a barrel over. She still was the high-money earner of all the barrel racers at $189,385.
Last year, Hailey was a college student at Texas A&M University where she got her bachelor's degree in agriculture economics. She also won the National Intercollegiate Rodeo Association championship.
This year her rodeo focus has been solely on the WPRA and that, along with the momentum from the NFR has given her an outstanding season. She and Sister had a memorable win at San Antonio last February, just 100 miles from her home in Cotulla. It was a rodeo she had grown up coming to and dreamt of competing at.
While it was her first time to qualify for the rodeo, they performed like veterans winning over $25,000. Combined with a second-place finish at the Fort Worth Stock Show & Rodeo and the Houston Livestock Show and Rodeo, Hailey was in first place in the standings by mid-Marsh. That's the same place she enters the NFR and she is hoping to remain there through 10 nights in Vegas. Along the way, Sister gained enough respect and admiration from Hailey's fellow competitors to be voted as the AQHA/WPRA Barrel Racing Horse of the Year.
Presented by: