Lisa Lockhart – Oelrichs, S.D.
10-time WNFR qualifier
9-time Badlands Circuit champion
4-time Canadian champion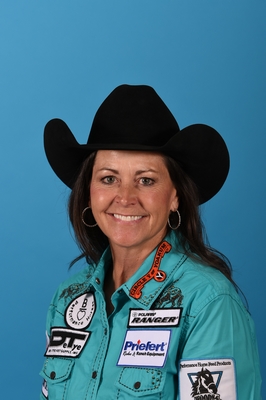 Lisa Lockhart is closing in on $2 million in career earnings, and if this year's Wrangler National Finals Rodeo (NFR) is anything like the last three have been for her, she will cross that line.
Prior to this year's NFR, Lisa had $1,899,686 in career earnings. Last year, she won $123,538 and finished second in the world. In 2014, she won the 10-run average and $143,897. In 2013, she left Las Vegas with $102,163. Any of those figures will put her over $2 million.
Lisa, who was born in Montana, has competed in Las Vegas on four different horses and the past two years has finished as the reserve world champion. Much of her recent success can be attributed to a beautiful buckskin gelding, An Oakie With Cash that she calls Louie.
Louie and Lisa have been among the fans' favorites for several years. In fact, the 13-year-old gelding has been her main mount since 2010. Lisa's rodeo schedule is made around her family and their ranch life. She and husband Grady have three children, Alyssa, Thane and Cade.
After competing some last winter, she went home and stayed busy with the family and ranch chores. Alyssa was a senior in high school and there is always plenty to do at their home in Oelrichs, S.D.
At the end of June, she was 38th in the world standings with a big summer ahead of her. She and Louie capitalized on opportunities and will enter the 2016 NFR in seventh place with $100,244 in regular-season earnings.
They secured their spot in Las Vegas by going to just 38 rodeos. That schedule has allowed her time to balance a very busy life. That life has always included rodeo and with three children that compete, it likely always will.