Mary Walker – Ennis, Texas
2012 World Champion
5-time WNFR qualifier
1-time RNCFR qualifier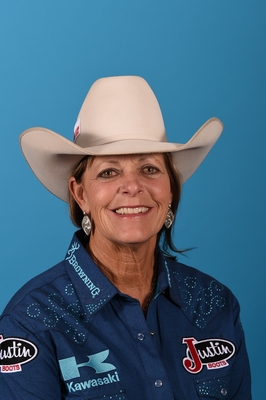 Mary Walker and her horse Perculatin "Latte" are just continuing to inspire the rodeo world.
Last July, she reached a milestone that only seven other women of the WPRA have accomplished. With her checks from the Calgary Stampede, her career earnings jumped over $1 million.
She enters this year's Wrangler National Finals Rodeo (NFR) in third place with $112,216 from the regular season. In the past four years, she has earned over $300,000 in Las Vegas and will add to that again this year.
Walker's success in the arena has come from turning tragedy into triumph and Latte has certainly been part of that. The story of the loss of her son and horse riding accident is oft repeated, and will always honor the memory of Mary and Byron's son Reagon Walker.
One month after the loss of her son, Latte fell on Mary during a rodeo. The "get back on your horse" attitude was never more present. Mary had a broken pelvis that required eight plates and 11 pins. Now she and Latte are the stuff that legends are made of.
They won more money than any other contestant at the 2012 WNFR in just her first qualification. They have won rodeos in big outdoor pens like Cheyenne Frontier Days and yet, come to Vegas and set the Thomas and Mack on fire.
This year, Mary will also be bringing the newest member of the team to Las Vegas, a sorrel blazed-face horse she calls Bojangles. The six-year-old gelding's registered name is "A Frosty Please," and will be on standby.
Bojangles has some pretty big shoes to fill and the way that 12-year-old Latte has been performing this year, he's not ready to give up his place underneath Mary's saddle. With husband Byron helping drive, this team has logged thousands of miles just to get the chance to keep the fans at the Thomas and Mack on the edge of their seats at the NFR again.